This happened in PORTSMOUTH, Virginia!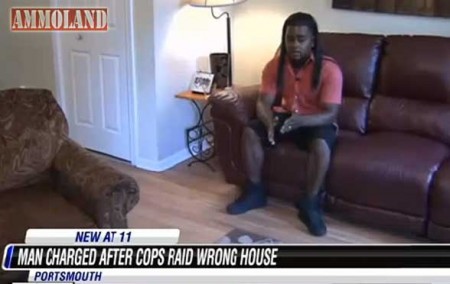 Covington VA –-(Ammoland.com)- Police, dressed up like ninjas in black tactical gear and unannounced, try to open a locked door on a house, the WRONG house, in the middle of the night.
The homeowner hears the noise and tries to see who is in his yard.  Men in dark clothing point guns with lasers at the homeowner.
Homeowner, with a laser beam on his chest and in fear for his life fires a warning shot through a window and flees to neighbor's house to get help.
Once the police have finally identified themselves to the homeowner, the homeowner disarms.   Then the police, who are at the wrong house and pointing loaded guns at the innocent occupant, charge the homeowner with reckless handling of a firearm!
A jury didn't buy it and rightfully so.  (That said, I maintain that warning shots should never be used.)
The charge cost the homeowner his job and he's planning on suing.  I hope he wins big.
"'As far as the officers response, I support their response 100 percent,' said Portsmouth Police Chief  Ed Hargis, who claims his men never heard Watson say he had a gun or say anything. 'Anytime the police hear there is a firearm, they start giving verbal commands, and they start yelling police.'"
Well if that's what it takes anymore for police, dressed in all black and in the middle of the night, to identify themselves, then they should assume every home has a firearm in it.  And a person is NOT required to tell anyone that they have a firearm before using that gun in self-defense.
"The jury thought Watson showed restraint by only firing one shot."
Amen.  And the police were lucky he didn't fire that shot, and more, through the door instead of out a window.  By attempting entry into that house and pointing guns at the homeowner, the police set themselves up for disaster.
"'This case, and firearm instructor concerns, as well as executive staff, we have modified the policy and taken the lasers off the weapons,' Chief Hargis said."
Call me cynical, but I think they are taking those lasers off because putting a laser beam on someone's chest is evidence that a loaded gun is indeed pointed at them.  Such evidence prevents the police from successfully claiming otherwise, as they tried to do in this case.
Police are NOT the military and should not dress or act is if they are.  If this trend doesn't bother you, it should.  SWAT teams were created to handle hostage situations only, but now they're are involved in all kinds of situations and many times with unnecessarily deadly consequences for innocent citizens AND the police.
From nbc12.com:  http://tinyurl.com/nco3wpj
About:
Virginia Citizens Defense League, Inc. (VCDL). VCDL is an all-volunteer, non-partisan grassroots organization dedicated to defending the human rights of all Virginians. The Right to Keep and Bear Arms is a fundamental human right. Visit: www.vcdl.org