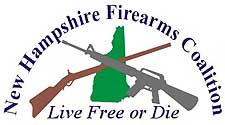 Milford, NH –-(Ammoland.com)- Freedom and the Second Amendment won because anti-gun former State Senator Gary Lambert lost his primary election for a slot on the Republican ballot to run for the Second District US House seat.
We told you that former State Senator Gary Lambert was anti-gun. We provided specific examples of his anti-gun votes in the State Senate.
Mr. Lambert was not happy about this. He protested and complained, but we did not change our opinion of him, he is a D – anti-gun candidate.
We didn't change our opinion or Lambert's grade because the Senate votes are available for all to see. All folks needed to do was read the Senate Journals. Mr. Lambert was defeated by NHFC A rated State Rep. Marilinda Garcia.
In other important races, NHFC A+ rated State Rep. Gary Daniels won his party's nomination for State Senate in District 11 and A+ rated David Wheeler won his party's nomination for Executive Council in District 5.
The voters, grassroots gunowners listened and responded. Freedom won!
Thanks for your support.
In Liberty,
Scott A. Krauss
Vice President – NHFC
P.S. The New Hampshire Firearms Coalition is working tirelessly to keep gun owners like you up-to-date on as many gun issues as possible — please consider contributing to the effort by chipping in $15 or $20.
About New Hampshire Firearms Coalition:
The New Hampshire Firearms Coalition is New Hampshire's only No Compromise Gun Rights Organization. While many so-called "gun rights groups" work to curry favor with politicians and the media, NHFC is working aggressively to hold politicians accountable and to put a stop to gun control. Visit: www.nhfc-ontarget.org