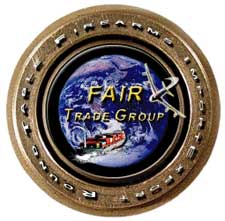 Las Vegas, NV –-(Ammoland.com)- F.A.I.R. Trade Group ( FireArms Import/Export Roundtable Trade Group ) will be holding its annual membership meeting during SHOT Show. Please save the date and make plans to attend this important event.
When: Tuesday, January 20, 2015
Time: 3:00 – 5:00 pm
Where: Toscano Room 3701, Venetian Hotel, Las Vegas, Nevada
We are pleased to announce that representatives from ATF will be at the meeting beginning at 3:15 pm to discuss and answer questions about current and upcoming issues affecting the firearms imports community.
As in past years, ATF has requested we provide them with a list of topics we wish discussed at the meeting. Please send the topics, issues or questions you want ATF to address to [email protected] by December 1, 2014. Your assistance and support is greatly appreciated.
***Beer and wine and other refreshments will be served.***
If you know anyone in the trade who would be interested in attending but who is not a member of F.A.I.R. Trade Group (yet), please forward this information to them.
I hope you can join us, and I look forward to seeing all of you!
Johanna Reeves
Executive Director
The F.A.I.R. Trade Group is a 501(c) (6) organization dedicated since 1994 to protecting the interests of the firearms and ammunition import and export community. F.A.I.R. operates entirely on the funds derived from our dues-paying membership. If you are interested in becoming a member or contributing to the organization, please visit our website at: www.fairtradegroup.org.