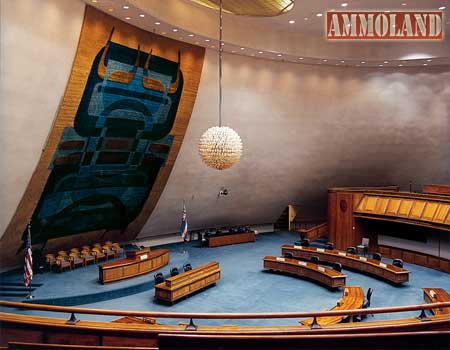 Hawaii – -(Ammoland.com)- California's Peruta case has taken a new turn further strengthening the case for amending Hawaii's may issue/show need concealed carry statute.
California's Attorney General and the Brady Campaign were too late to intervene in a favorable Ninth Circuit Court reversal decision.
History: Mr. Ed Peruta and other plaintiffs, including the California Rifle and Pistol Association, challenged the County of San Diego and San Diego County Sheriff William Gore for denial of a concealed carry license but lost in US District Court, December 12, 2010.
The Ninth Circuit Court of Appeals reversed that decision February 14, 2014, and sent the case back to US District Court because "The District Court erred in denying the applicant's motion for a summary judgement on the Second Amendment claim because San Diego County's 'good cause' permitting requirement impermissiby infringes on the Second Amendment right to bear arms in lawful self-defense." The Ninth Circuit held that a responsible, law-abiding citizen has a right under the Second Amendment to carry a firearm in public for self-defense and that "self defense" was sufficient "good cause."
Present: Sheriff Gore declined to file a petition for rehearing, so the Attorney General for the State of California and the Brady Campaign to Prevent Gun Violence "moved to intervene." On November 12, 2014, their intervention has been denied. The decision against The County of San Diego and its Sheriff stands, in favor of Peruta.
The Ninth Circuit Court also hears appeals from Hawaii's US District Court, and the plaintiffs' claim is essentially the same as Chris Baker's suit against HPD Chief Kealoha. In addition to Peruta, the same Ninth Circuit judges heard Baker v. Kealoha at the same time and ruled similarly that Hawaii US District Judge Kay erred, opening an opportunity for appeal to the US Supreme Court.
Hawaii Rifle Association will ask supportive Hawaii State Legislators to introduce legislation to amend Hawaii's carry statutes in the 2015 Legislature, opening Jan 15, 2015.
About Hawaii Rifle Association;
HAWAII RIFLE ASSOCIATION, a non-profit organization registered and incorporated within the State of Hawaii and representing the National Rifle Association as its State Affiliate Organization for the State of Hawaii. Visit:www.hawaiirifleassociation.org