Meet Cody Robbins, Fred Eichler, Jim Shockey and Rick & Julie Kreuter (Booth #1019)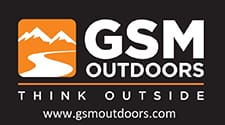 Grand Prairie, TX -(Ammoland.com)- GSM, a company that delivers the latest in specialized products and technology, designed specifically with the outdoor sportsman in mind, is providing an opportunity to meet and get autographs from some of the top celebrities in the outdoors at the GSM SHOT Show Booth (#1019).
Handle all the new 2015 products GSM will be unveiling, and also meet some of the hunting industry top personalities such as Cody Robbins, Fred Eichler, Jim Shockey and Rick & Julie Kreuter at the GSM Booth #1019 as they will be making appearances, signing autographs and offering helpful hunting tips.
Tuesday, Jan. 20th 1:00pm-2:00pm – Cody Robbins
Wednesday, Jan. 21st 10:00am-11:00am – Jim Shockey
Wednesday, Jan 21st 1:00pm-2:00pm – Rick & Julie
Wednesday, Jan. 21st 3:00pm-4:00pm – Fred Eichler
Cody Robbins created Live 2 Hunt; a reality based hunting show, which consists of a handpicked team of very talented outdoors men and women that all bring something completely different to the table. Hunting and the outdoors is not just a hobby of Cody's, it's a way of life. Cody is dedicated to his work, and the wild. He is driven by his passion and love for what he does to bring the viewers a show that will not be beat.
Beyond the Hunt with Rick and Julie Kreuter airs on the Outdoor Channel. This Outdoor Reality hunting show is not just about the harvest that makes a hunt memorable! From unique profiles to their own personal adventures, Rick & Julie Kreuter spotlight "the experience!"
Fred Eichler is the host of Easton Bowhunting TV, Predator Nation and owner of Fulldraw Outfitters. When he is not guiding hunters he splits his time between wildlife photography, freelance writing and trapping. His articles and photos have appeared in Bowhunter, Bowhunting World, North American Hunter and Traditional Bowhunter magazines. He has harvested all of the 28 North American species recognized by Pope and Young with his recurve bow.
Jim Shockey has been an award winning outdoor writer, wildlife photographer\videographer, wilderness guide and outfitter for the last two decades. He has exclusive guiding territories on world-renowned Vancouver Island, British Columbia, in the wilds of the Yukon Territory, in the Sonoran Desert of Old Mexico and also in the heart of big whitetail buck country in Saskatchewan. Jim's personal hunting experiences include travel to the remotest, wildest and most beautiful reaches around the world.
About GSM Outdoors
GSM provides a wide range of outdoor related products from brands such as Stealth Cam & Wildview scouting cameras, EPIC point of view action cameras, Walker's Game Ear hearing protection & enhancement, Maestro & Western Rivers game calls, Xone performance base layers and the official licensee of Louisville Slugger athletic apparel, Cyclops portable lighting & power, American Hunter & Feeder Max feeders and SSI shooting accessories. They go to great lengths to ensure their products deliver the latest features and the rugged durability you demand. So whether you're a seasoned hunter or a weekend outdoor enthusiast, GSM has just what you need to make the most of your outdoor experience. For information regarding GSM and their products please visit www.gsmoutdoors.com. To become a dealer or have a sales representative contact you, please call (469) 586-0428.