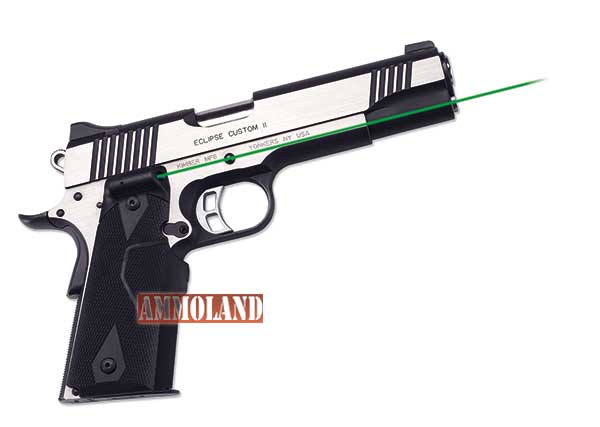 Wilsonville, OR -(Ammoland.com)- If you own, or are thinking about purchasing, a Crimson Trace laser sight or tactical light, there's great news.
The company is now providing online manuals for its nearly 200 laser and lighting products. For buyers and owners who wonder how to take a unit apart for battery replacement, need perfect pointers on easy installation, or simply wish to make the windage and elevation adjustments with ease, now the details are at your fingertips.
Having the information online means no more searching to find the original packing box and owner's handbook, users can simply go to the company's website—www.crimsontrace.com. Once on the Crimson Trace website, click on the PRODUCTS tab and then select the item you need details about.
Clicking directly on the item will reveal the MANUALS. For example, the LG-309 Lasergrips for Browning's Hi-Power pistol reveals the Owner's Handbook for that Lasergrip plus the standard category Laser Sight Owner's Handbook:
EXAMPLE: Manuals
LG-309 Owner's Handbook
Laser Sight Owner's Handbook
The PDF file manuals can be read online, or downloaded to your computer and saved for future reference, and these helpful guides can be printed immediately. This user friendly option is another bonus feature of owning a Crimson Trace product.
Crimson Trace's new products, and the many Lasergrips, Laserguards, Lightguards, Rail Masters, Rail Master Pros and other products the company produces, will be on display in booth #16731 at the upcoming Shooting, Hunting and Outdoor (SHOT) Show in Las Vegas. Rail Masters are widely recognized for being the most compact, most powerful and easiest to operate laser sight systems for any firearm (long gun or pistol) with a Weaver or M1913 Picatinny rail installed.
Crimson Trace offers the most rail mounted laser sights, lights or combination light/lasers of any manufacturer. For additional details about the company and its innovative laser sight systems and tactical light products, visit www.crimsontrace.com or call 800-442-2406. Crimson Trace is America's recognized industry leader in laser sighting technology and product development.
The company, based in Wilsonville, Oregon, is celebrating more than two decades of laser sight and tactical light design and manufacturing.
All Crimson Trace products are proudly Made in the USA.
About Crimson Trace
Crimson Trace, the acknowledged industry leader for laser sighting systems and tactical lighting for firearms, is based in Wilsonville, Oregon. Its award-winning innovations include Lasergrips, Laserguard and Lightguard –all with Instinctive Activation . The company's product line also includes the Defender Series and Rail Master platforms – all are proudly Made in the USA. More details are available at: www.crimsontrace.com or by calling 800-442-2406.