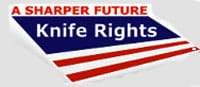 Gilbert, AZ –-(Ammoland.com)- Knife Rights' Knife Law Preemption bill was passed in Oklahoma last year by overwhelming majorities in both houses of the legislature, but Governor Fallin vetoed the bill for political reasons unrelated to the bill.
Efforts to override the veto were stymied by the same political firestorm. Knife Rights Director of Legislative Affairs, Todd Rathner, immediately started working toward re-introducing the bill this year.
The result of this effort is Senate Bill 364 sponsored by Senator Nathan Dahm and House Bill 1460 sponsored by Representative Kevin Wallace, both of which were prefiled this week.
Knife Law Preemption repeals and prevents local ordinances more restrictive than state law which only serve to confuse or entrap law-abiding citizens traveling within or through the state. Preemption ensures citizens can expect consistent enforcement of state knife laws everywhere in a state.
Knife Rights passed the nation's first Knife Law Preemption bill in Arizona in 2010 and has since passed preemption bills in Georgia, Kansas, New Hampshire, Tennessee and Utah.
Knife Rights will let you know as soon as it is appropriate to contact your legislators about this bill.
About:
Knife Rights (www.KnifeRights.org) is America's Grassroots Knife Owners Organization, working towards a Sharper Future for all knife owners. Knife Rights is dedicated to providing knife owners an effective voice in public policy. Become a Knife Rights member and make a contribution to support the fight for your knife rights. Visit www.kniferights.org