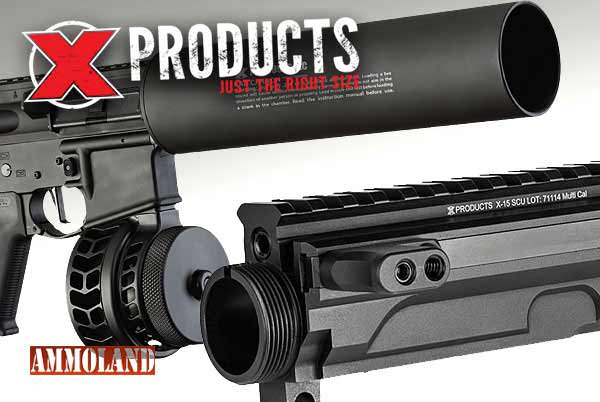 Las Vegas, NV -(Ammoland.com)- X Products, an industry leading high capacity drum magazine manufacturer based in Oregon, is releasing four new products at the 2015 Shot Show.
These products continue to uphold our commitment to quality and include our industry leading lifetime warranties.
The Can Cannon:
The Can Cannon is an AR-15 accessory that is more fun than anyone should have… Currently set up for launching full un-opened 12oz soda cans, when used with M200 mil spec blanks it can reach an average distance of 105 yards! The Can Cannon is available in three colors: black, flat dark earth and olive drab. Click for Media
The X-15 Billet Side Charged Upper:
The billet machined X-15 SCU is a revolutionary leap forward in non-reciprocating side charging design that improves where others have left off. Designed to work with .223, 300 black and 9mm, this unit is the most versatile on the market. Click for Media
The X-15 9MM 50 Round Drum Magazine:
A 50 round Drum Magazine specifically made for 9MM Colt Pattern AR-15s. Built using our proven coil magazine design, and at only 8oz heavier than a standard stick magazine, this is the most compact 9MM drum magazine on the market. Built from aluminum and steel, there are no plastic parts. Guaranteed to be the most durable drum magazine you've ever owned. Click for Media
The X-15 Chevron Skeleton 50 Round Drum Magazine:
Our best selling X-15 50 Round Drum Magazine introduces a new Chevron Skeleton pattern. The mechanical and functional design is the same, the Chevron Skeleton pattern gives it a fresh new look. Available in black, flat dark earth and olive drab. Click for Media
We will also have pre-release Can Cannon accessories like the grappling hook and net as well as the Viper Rail system on display at the Shot Show. For more information please contact Dewey Akers at X Products, LLC at (503) 502-0565 or [email protected]
About X Products, LLC
X Products, LLC is a Portland, Oregon U.S. based leader in drum magazine and accessory design and manufacturing delivering high quality components to the military, law enforcement, and consumer markets. For more information on X Products, call (503) 502-0565 or log on to www.XProducts.com.