By Kevin Reese

USA -(Ammoland.com)- Let's be realistic. When talking about night vision optics sticker shock reigns supreme.
Some night optics can cost as much as tens of thousands of dollars, so keep your expectations realistic. IR night vision and thermal imaging scopes, including digital are going to cost you some dough… more than your average optics.
The good news, however, is that you do have options. You might have to shave pennies here and there but hunting with IR night vision or thermal imaging doesn't have to cost $20k or even $5k.
How low can we go with night vision and thermal imaging optics worth their weight in gold?
The 2015 SHOT Show put a spotlight on three thermal imaging scopes you can actually get into without breaking the bank! Take a look…
FLIR ThermoSight RS24 Riflescope (Thermal Imaging)
In a world of high-dollar optics, where prices can soar up over $20,000 and beyond, FLIR has developed the RS24 thermal imaging riflescope specifically designed for traditional consumers. This 1x magnification optic delivers premium performance perfect for nighttime operation or anytime heat signatures give you the upper hand.
The lightweight RS24 measures 8" x 3.3" x 2.9" and features duplex, fine duples or German reticles in white, black, red and green. FLIR's rugged reliability is presented and accounted for in RS24's durable rubber outer armor, IPX7 waterproof rating, operating temperature range of -4°F – 122°F, storage temps ranging from -40°F to 140°F and over 4 hours of battery life from an internal Li-ion battery, charged via USB interface from an included wall charger.
The FLIR RS24 also follows the KISS method with easy 4-button operation even a guy like me can master and even boasts an Active Matrix LCD screen with 640 x 480 resolution.
The FLIR RS24 mounts on a picatinny rail and is built to handle up to .308-cal. So, just how much does the FLIR RS24 cost?
While you might have to shave some corners in other places and save with a mission in mind, owning the RS24 is quite achievable with a price point of $3,499.
Pulsar Apex XD38A Riflescope (Thermal Imaging)
In recent years, Pulsar has become one of the most recognized names in the night vision/thermal imaging world… and for good reason!
Pulsar has established itself as a premium quality optics manufacturer dedicated to meeting the rigorous demands of the people who help them develop their products – gritty, boot-on-the-ground operators and hardcore night hunters hungry for optimum performance at a pricing that doesn't blow budgets out of the water or call for bucket-list reasoning.
The Pulsar Apex XD38A Riflescope,  while not inexpensive for most of us blue-collared folks, the price point of $3,200 is certainly achievable given an ounce of determination to make it happen – and OH, WHAT BANG FOR YOUR BUCK!
This amazing thermal imaging rifle scope stands up to those high-dollar scopes and even out performs (in my humble opinion) many of them; of course, reasonably priced premium grade products appear to be foundational to Pulsar anyway so I wasn't overly shocked with Sellmark President, James Sellers, approached me at the 2015 SHOT Show with this bad boy!
The Apex XD38A Thermal Riflescope boasts hot white/hot black viewing modes, 1.5 – 6x magnification, 1x – 4x digital zoom with picture-in-picture, 67mm eye relief, 10 preloaded variable electronic reticles, a 1050-yd range of detection, 640 x 480 resolution LCD display, PAL/NTSC video output, frame refresh rate of 50Hz, uncooled microbolometer resolution of 384 x 288 and operation modes of rocks, forest and identification.
Heck, the Pulsar Apex XD38A can even memorizes three different zeroing parameters, can be calibrated in manual, semi-auto and auto modes, and has one-shot zeroing with a freeze function!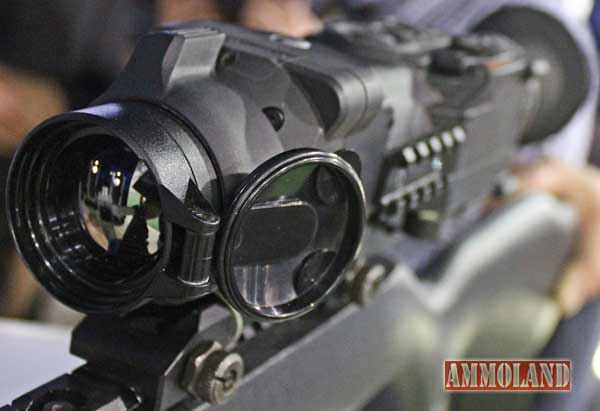 What's that? You want dependability, too? Pulsar gets it, and gives it.
True to Pulsar's reputation, the Apex XD38A delivers IP67 waterproof construction (submersible up to 1m for up to 1hr) contained in a body designed to handle your outdoor environment and up to 5 hrs of battery life from two CR123 batteries.
What else could Pulsar possibly add to the Apex XD38 Thermal Imaging Riflescope to blow your mind? A wireless remote. For $3,200 I doubt it can be beat.
Sightmark Photon XT 4.6x42S Digital NV Riflescope (IR Night Vision)
Finally, a night vision scope you can afford right out of the gate! Whether you're a combat or law enforcement operative, or an adrenaline junky on a budget prepping for your next great night hunting adventure, the Sightmark Photon XT Infrared (IR) Night Vision (NV) Riflescope is exactly what you're looking for!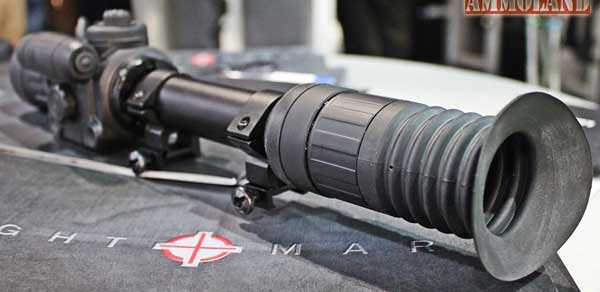 Even before I found the FLIR and Pulsar models mentioned above, my treasure hunt at the 2015 SHOT Show took me straight to the Sightmark booth. Why? If you love high quality tactical optics, lasers, flashlights and boresights at prices that don't include sticker shock, Sightmark is the right place to start your hunt… and the reason I went straight to their booth to begin with. Like previous years, Sightmark didn't disappoint, especially with the Photon XT NV-IR Riflescope!
#Awesomeness is the only new-age media buzz word I can think of to start talking bells and whistles.
The Sightmark Photon XT IR-NV Riflescope takes my 2015 SHOT Show top spot in this gear category with tried and true operator development and a price point perfect for broke outdoor writers!
Let's start with the features so I can wrap this piece up with pricing set to have you running to (or Googling) a Sightmark dealer. The Photon XT 4.6x42S is perfect for day or night use and boasts 6 digital reticle styles, 640 x 480 high-resolution LCD display, 656 x 492 camera resolution, video output, CMOS sensor, built-in 810nm LED IR illuminator, 4.6x magnification, 120m range detection, 100mW equivalent IR power, front focus, 42mm objective lens, 30mm tube, long 60mm eye relief and a weaver accessory mount.
True to Sightmark's reputation, the shockproof and weatherproof Photon XT is built to handle your toughest missions and up to 1000 G's of recoil with a glass-nylon composite and metal body, IPX4 waterproof rating and up to 5 hrs of battery life from two AA batteries. So what does the perfect budget-minded day or night hunting IR-NV optics package cost?
This is where I repeat #AWESOMENESS. The Sightmark Photon XT 4.6x42S Digital N Riflescope is priced perfectly at only $599!
Tell me regular Joe's can't get out there for adrenaline-charged night hunting and I'll show you a SIghtmark catalog that says you're dead wrong!
Disclaimer: All reticle images were taken through non-mounted optic systems. At no time were firearms used while capturing images. Reticle photos are simply meant to demonstrate sight picture.

*Feature image courtesy of Pulsar Night Vision.