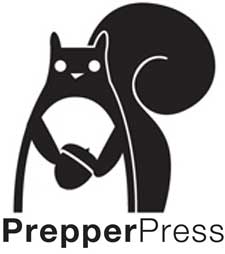 USA – -(Ammoland.com)- ot all firearms batteries are perfect. Survival Guns: A Beginner's Guide ( tiny.cc/sanhtx )  will get you started.
Written by experienced NRA-Certified Instructor Steve Markwith, Survival Guns is the first firearms book in Prepper Press's PrepSmart series, dedicated and directed to preppers and those curious about them.
While Markwith isn't a "Doomsday Prepper" himself, he believes in providing the home with basic yet well-chosen protection, starting with a "coordinated" set that includes a shotgun, two rifles and one handgun – some "essential systems."
Markwith also discusses tips on purchasing accessories and safes, basic firearms safety, NRA rules, and provides further reading. Moreover, Markwith starts the reader off with a "clean slate," no matter how much experience they possess. While some readers may assume they can integrate what they already have, Markwith avoids that route in order to produce the best results for the process. He goes through every aspect of it, from planning to purchase to prepare, and emphasizes on fitting the reader's budget and needs.
This logical approach to building a basic firearms battery will not only provide essential protection, but also a suitable selection of a variety of needs. Afterward, Markwith incorporates how to select additional, specialty firearms.
Steve's manuals target beginners to intermediates, but those advanced will also be satisfied with the value of the content and having such a reference handy. While the PrepSmart series offers instruction and material on personal preparedness, it also incorporates how to save money while doing so, no matter the type of budget.
Survival Guns: A Beginner's Guide
Steve Markwith
List $10.95 paperback
Paperback 134 Pages
e-book $5.95
Published by Prepper Press
ISBN 978-0692236673
https://tiny.cc/sanhtx
About the Author
Steve Markwith holds a life-long interest in all things that shoot. These include rifles, shotguns, revolvers, pistols, airguns, and black-powder guns, plus bows, vertical or horizontal. He began formal training at age 11 during NRA-sanctioned, small-bore target rifle events, and became an active hunter by age 12. He began reloading at age 14, starting with shotgun shells and a handheld Lee-Loader.
Steve joined the U.S. Army, serving two combat tours while acquiring experience on numerous military firearms systems during helicopter and ground-based operations. Returning to civilian shooting, he gained further experience during NRA Bullseye, combat pistol, and shotgun competitions. He became an NRA-Certified Pistol, Rifle & Shotgun Instructor and served as a certifying authority for concealed-carry permit applicants in several states. He joined the firearms industry, working with a gunsmith who was a disciple of the well-known wildcat cartridge designer, PO Ackley.
Eventually, Steve assumed control of all firearms operations for a major state agency, which included training, range operations, and equipment procurement. His credentials include federal, state, and manufacturer's certifications related to various firearms systems and intermediate force technologies. He has 25+ years of full-time firearms training experience and enjoys direct contact with many industry sources.
About Prepper Press
We at Prepper Press are a publisher specializing in dystopian fiction and survival-based nonfiction. Vist our Website www.prepperpress.com