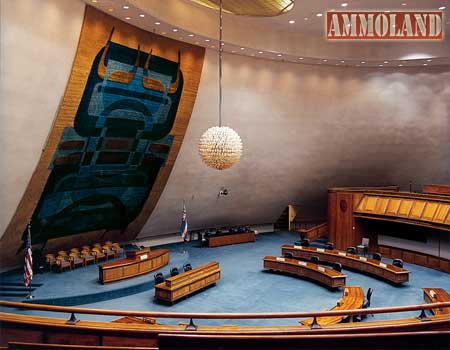 Hawaii – -(Ammoland.com)- Three gun bills are up for a hearing in the Hawaii Senate Public Safety Committee, Tuesday Feb 3, 2015. Please send testimony, and come and deliver it in person if you can for this important first hearing on our issues.
Go to the Hawaii State Legislature web site Hearing Notice:
http://www.capitol.hawaii.gov/session2015/hearingnotices
/HEARING_PSM_02-03-15_.HTM
See the last 3 bills on the notice. Click on Status & Testimony for each bill number for the bill history, description, and full text. Click on Sign In
/Register. Go back and click Submit Testimony, and follow the prompts. You can attach your testimony as a file, or type it in the "comments" box. Please submit separate testimony for each of the 3 bills. FOR YOUR TESTIMONY TO COUNT, PLEASE SEND BY 1:15 PM MONDAY, FEB. 3 2015.
SB 462 Relating To Firearms Possession. HRA STRONGLY OPPOSES. Requiring a sworn statement that all firearms are disposed of is a violation of individual 5th Amendment rights.
Under current Hawaii law, the county police "may" require individuals denied a permit to dispose of or turn in all firearms within thirty days of denial. Requiring that the PD's "shall" collect firearms removes the necessary discretion currently available in cases while the applicant needs opportunity to show a disability does not exist, particulary as pertains to medical records.
SB 473 HRA SUPPORTS. The Law Enforcement Officers Safety Act (LEOSA), requiring the states to issue permits to carry concealed to retired law enforcement officers, passed the U.S. Congress 12 years ago. Hawaii still has not implemented a satisfactory mechanism for issuing those permits. The current system is burdensome, defeating the intent of the Federal Act. This bill will help.
SB 955 Related to Shooting Ranges. HRA STRONGLY SUPPORTS. Nuisance lawsuits brought against lawful previously established shooting ranges, public and private, are often threatened by disgruntled neighbors and government agencies. This bill helps protects vital places to shoot. Mahalo to Sens. Gabbard and Slom for introducing it.
"Legislation is like the lottery. You can't ever win if you don't buy a ticket!"
Mahalo,
Dr. Maxwell Cooper,
HRA Legislative Liaison
[email protected]
808 225-6944
About Hawaii Rifle Association;
HAWAII RIFLE ASSOCIATION, a non-profit organization registered and incorporated within the State of Hawaii and representing the National Rifle Association as its State Affiliate Organization for the State of Hawaii. Visit:www.hawaiirifleassociation.org