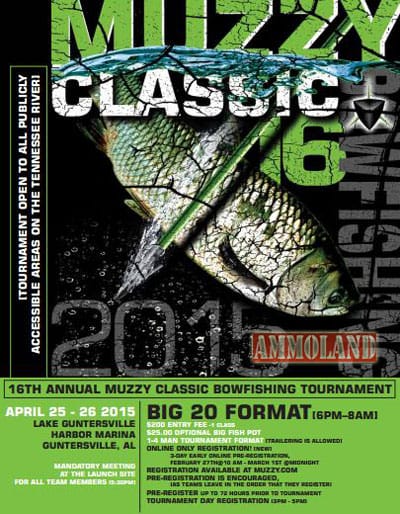 Lake Guntersville, AL -(Ammoland.com)- This year's Muzzy Classic bowfishing tournament, scheduled for April 25 and 26 at Lake Guntersville, Ala. is slated to be substantially bigger than the previous 15 tournaments.
With a first place cash payout of $10,000, more waters to fish, up to four-person teams and a huge prize table, this tournament is slated to be one of the largest in the country. This year, new fishing areas have been opened to accommodate the growing number of participants and to add to fish count. In addition to bowfishing Lake Guntersville, Muzzy has opened Wheeler Lake in addition to any public access on the Tennessee River system.
A complete list of open waters and specific rules for each of these new areas are available in the registration packet that can be found online at www.muzzy.com. The primary tournament is a Big-20 format, weighing in your heaviest stringer of 20 fish, only one grass carp and five buffalo maybe weighed in. You can have three grass carp and 15 buffalo in the boat. All legal species for the state fished will be accepted, but catfish will not be weighed or counted. Individual prizes will be awarded for the heaviest carp, the longest gar, the heaviest grass carp and the heaviest buffalo.
This year, the tournament is now open to teams of one to four, with a $200 entry fee per boat. There will also be an optional Big Fish Pot that teams can enter in for an additional $25.00. Pre-registration is highly encouraged, as teams will be staged and released in the order that they registered. Online early pre-registration will be open at www.muzzy.com on Feb. 27 at 10 a.m. until March 1 at 11:59 p.m. (all times EST). These entrants will be randomly selected for the first starting positions. Online registration will continue in the order registered from March 1 at midnight until 72 hours prior to the tournament when online registration will close.
Onsite registration will be available the day of the tournament. A total of 78 teams competed last year, so early pre-registration is important to securing a good starting position. A mandatory meeting will be conducted at the launch site for all teams at 5:30 p.m. on April 25. The tournament runs from 6 p.m. April 25 through 8 a.m. April 26.
To kick-start the weekend of festivities, a Friday night Meet & Greet will take place at the Pavilion launch site at 4 P.M. This is an opportunity for all participants and sponsors to have dinner, drinks and some great camaraderie before the competition begins the next day.
This year's Muzzy Classic is going to bigger and better than ever. Be sure to sign up early to get a good starting place.
For information on the tournament, visit www.muzzy.com to download the flier, rules and entry form, or email Mark Land at [email protected]
About Muzzy
Founded in 1984, Muzzy is the number-one name in fixed-blade broadheads, and it is a pioneer in the art of bowfishing. A division of Feradyne Outdoors, Muzzy is headquartered in Cartersville, GA. For more information on the full line of Muzzy's fixed-blade broadheads and state-of-the-art bowfishing equipment, contact Muzzy Outdoors, LLC, 110 Beasley Rd., Cartersville, GA 30120; call (770) 387-9300; or visit www.muzzy.com.