By Bob Shell
Apache Junction, AZ –-(Ammoland.com)- Ruger has been making some new types of handguns and one of their newer models is the Ruger 9E Handgun.
It is a full size model capable of 18 shots loaded. The market is saturated with DA 9'S so for one to be commercially successful it has to have some features to offer the consumer. Among them is a reasonable price and reliability.
A good trigger and sights are other features that a consumer would look for. As for looks, most of them leave something to be desired but that is the least important feature one should look for.
Even an ugly gun with good features would endear itself to me rather then a pretty paperweight.
One of the Ruger 9E Pistol features are is it is light and feels good in my hand. It has the typical 3 dot white sights which enables us to pick them up rapidly and a major plus in a defensive gun.
The two-position safety is located near the back end and is awkward to release. I am not crazy about its position, as it isn't the best place for rapid use. It is however positive and prevents the gun from going off accidentally.
The magazine release is both very positive and convenient to use rapidly. The gun will fire with the magazine removed, which is a good feature in my view. It has a lug beneath the barrel, which will enable the owner to mount a laser or flashlight.
Personally I prefer the Crimson Trace system and hopefully they will be available for this model.

The recoil spring is strong and someone with small hands or not a lot of strength may have a little difficulty chambering a round. Shooting may loosen that up. It comes with one magazine but I strongly suggest an owner buy at least two more. The magazine is usually the weak link in a semi so a couple of backups are necessary. You can see a loaded round in the chamber and if it is cocked the back of the firing pin protrudes from the back of the receiver and moves rearward when the trigger is being pulled. The trigger is an improved striker fired mechanism and is better then many others I have shot. The manual covers everything well including dis assembly and cleaning. If I am reading correctly the length of the warranty depends on where you live. Interesting but I imagine Ruger would make good on any gun they produced unless it was abused.
The retail price (MSRP $429.00) is within the means of most consumers, another attractive feature.
As always other shooters will have an opportunity to try each gun as part of my review. Its a method I use when evaluating a gun. Everyone has different tastes so it is only fair to have shooters of both genders and different experiences to try it out.
Several shooters tried the gun and the comments were favorable. They liked the trigger and the general feel. The way the gun fits a shooter is a personal thing and any person contemplation on buying a serious gun should try various brands to see what fits them the best. Any personal defense gun should fit and be the largest that you can handle efficiently. Small guns are convenient to carry but are more difficult to shoot well. Small caliber guns may be more prone to malfunctions. The 9 isn't my favorite caliber but with modern ammo and a high capacity magazine it will do well in a social situation. Of course it has to be 100% dependable otherwise it is a paperweight. This Ruger measures up.
Naturally, the bottom line is how does it shoot?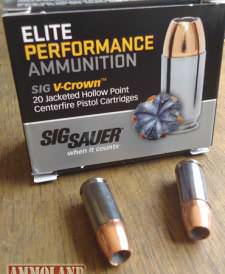 We started out with some Wolf steel case ammo which is perfect for practice. It shot well but if you limp wristed the gun they would occasionally stovepipe. Again, that may go away after a few hundred rounds. The Sig and Double Tap ammo performed flawlessly.
However, I had some cast bullet loads and it did not like them as they frequently jammed. Since they were just some left over ammo from previous tests I wasn't too concerned. I will make up some newer cast loads and retry them.
I was running some test with Hodgdon HS-6 so I used it for these reloads. It is a mild powder for the 9 and if velocity is your goal another powder may be your choice. I use a lot of 231 and similar powders for most of my 9 mm loading. The 130 grain bullet was made for a 38 but since it is a round nose I sized to .356 and it works well.
Like any gun it is important to see which ammo runs best especially in a defense gun. The trigger pull is decent and shouldn't give anyone a problem unlike some other 9 mm guns I have previously tested. It has some creep and travel but it is entirely usable.
A new brand of ammo well worth checking out is the Liberty Brand. They make a 50-grain bullet that clock in the neighborhood of 2000 FPS depending on the gun. Recoil is light and in every gun I have tried it in there have been no feeding problems. They make it in several calibers and I believe that it will catch on.
LOAD                                 BULLET                             VELOCITY                        COMMENT
7 grains HS-6                    115 grain cast               1187                              decent load
6.8 X HS-6                        115 grain FMJ                1095                               mild
Barnes                                115 grain Tac TP         1053                                mild
Blaser                                 115 gr FMJ                    1132                               consistent
Winchester                       115 gr FMJ                   1148                                nice
Wolf steel case                 115 gr FMJ                    1105                                consistent
SIG                                      124 gr JHP                     1103                               nice
6.5 grains HS-6                  125 gr Berry                953                                accurate
6 grains HS-6                     130 gr FMJ                    906                              consistent
Double Tap                       147 gr JHP                     988.1                                decent
5 grains HS-6                      147 gr Berry                 717                               mild
Double Tap                       165 gr                            868                                interesting
The gun has been shot several hundred times with no issues except those lead bullets, which isn't a problem in my view. Everything else worked which would make it a good candidate for a carry gun.
Since it handles hollow points of various shapes, your social ammo shouldn't be hard to get. As with any serious protection gun, you should try several brands of ammo to establish what you are comfortable with and what the gun likes. Other things to look for is availability of your ammo.
Handloads can be used but caution should be observed if you use them for self-defense. If you live in an area that has an anti-gun AG they may try and prosecute you for using handloads. Yes, it is ridiculous but so is every anti-gun argument but they will pursue it nonetheless.
Results: A good, reliable, simple to use weapon for self defense or sport shooting. Read more Ruger 9E Pistol specs here:  http://www.ruger.com/products/9E/specSheets/3340.html
About Bob Shell
A Custom Reloader of Obsolete and Antique Ammo, Bob Shell, writes about the subject of Guns, Ammo, Shooting and Related Subjects. Visit: www.bobshellsblog.blogspot.com