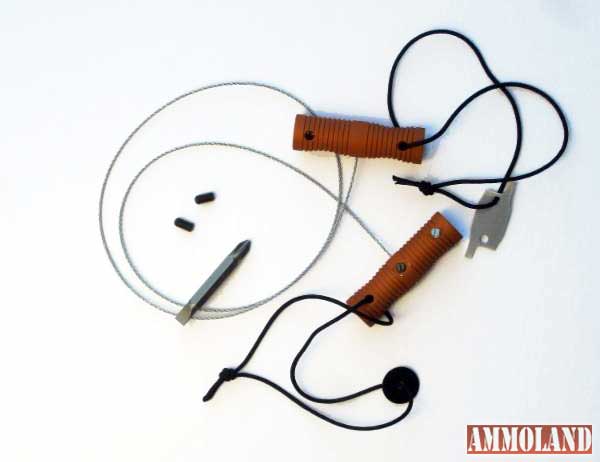 Colorado Springs, CO -(Ammoland.com)- The Grip-S (Grip Survival) by SOLKOA Survival Systems is a pair of adaptive handles that can do more field-expedient improvisation for you than any other multi-tool on the market.
The Grip-S design comes from requests made by Special Operations aviators for Evasion & Escape purposes and general survival use. The resulting functionality and incredibly tough construction make the Grip-S useful in almost any situation you can imagine for our military and civilians alike.
SOLKOA is a long-time major supplier of survival kits and specialized equipment to elite U.S. military units, so the Grip-S is machined from tough, high-grade 6061 aircraft aluminum to meet military survival specifications for precision and strength. This unique piece of equipment is not cheap but then, how much is your life worth?
The Grip-S can hold standard flexible wire saws, any universal shank saw blade and any round or hexagonal tool up to a quarter inch in diameter. Accessories are simply attached to the Grip-S handles using the supplied set screws.
The Grip-S comes packed with a wire saw and Phillips/slotted screw driver bit. Universal shank saw blades, ¼ inch hex bits, metal files, drill bits and awls can be added to expand your capabilities or match a specific mission or environment. The kit also includes a metal connector to join the grips for longer length or position them at a 90-degree angle for additional handling torque if necessary. It comes in four anodized colors.
Contents/Specifications:
Two 2 3/8 x 5/8-inch 6061 aluminum anodized handles in tan, red, black or orange
One 28-inch multi-strand wire saw
One Phillips #2 bit and #10 slotted screw 2 x1/4-inch bit (may also link both handles)
Six set screws (3/8 x 3/16-inch) used to hold tools and blades in place in the Grip-S
One steel disc (for tightening Grip-S handle set screws)
Two 17-inch Type 1 nylon cord lanyards
Universal shank connector to link both handles (if needed)
Kit weight: 2 1/2 ounces
MSRP: $49.95
As a "sort of follow up" our PR firm ordered up one of these to see if it justifies what initially appears to be an elevated price for something that seems so simple. We received our kit a couple days ago, March 27, and after checking it over we can assure doubters, this is no "lightweight" piece of gear. Beautiful machining, robust construction, incredibly well designed (it really works), it is the real deal for serious survival–then again special operations aviators want it for their potential survival emergencies. We turned it over to a couple of our associates who were in Army Special Forces, one a graduate of the Army SERE Instructors Course and they were very impressed.
It is a neat piece of gear and we hope you will forgive us for gushing over it for a client.– Shults Media Relations, LLC.
About SOLKOA Survival Systems
The SOLKOA Survival Systems line of products is manufactured by SOLKOA Inc., a leading provider for those that work abroad in the most austere regions, who demand professional grade equipment and innovative survival tools that function without fail…in the worst of conditions…every time. Since 2008, we have taken a portion of our high-end emergency preparedness gear to the commercial marketplace, where it has become a staple to those committed to backpacking, hunting, camping, mountaineering and climbing – as well as professionals who work in the industry worldwide.
For more information, please visit www.SolkoaSurvival.com.