By Tom McHale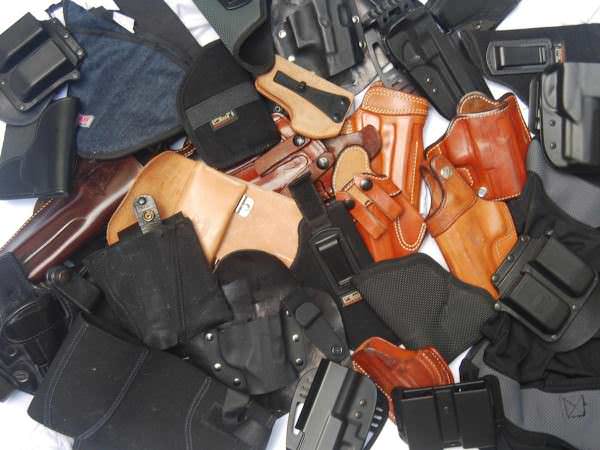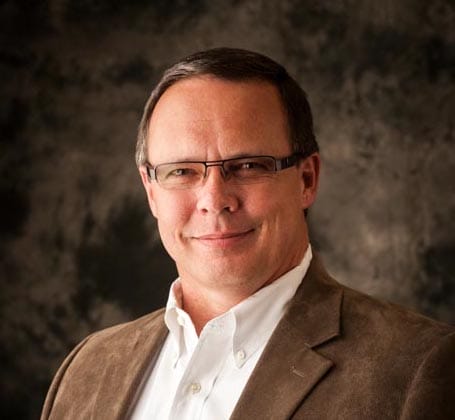 USA -(Ammoland.com)- If you listen to the internet, you might think that belt carry is the only sensible way to carry a gun.
Any other way sucks on general principle, will get you killed, or result in Pluto plummeting from the sky into western Kansas. That's probably OK though, considering Pluto isn't a real planet anymore.
I like to be more understanding. While I do believe belt carry is probably the best all-around option, assuming you can, [sorry New Jersey]  it's simply not feasible for all people all of the time. Women may need to wear a dress instead of pants. Men may spend most of their day sitting or in a vehicle. Men and women may have work dress codes that make belt carry difficult or impossible. There are a million reasons why traditional belt carry may not be an option at all times.
Sometimes you just have to accept other carry options due to your circumstances. You might have to adopt a carry method that is a little slower or that offers more difficult access to your gun.
Might that be less than ideal? Yes. Is it better than not carrying at all? Yes.
For example, if your work environment forces you to carry very deeply concealed, you might choose to carry my gun in an undershirt holster rather than not carry at all. Is that as fast as belt carry? No. Is undershirt carry better than not carrying at all? Yes. Could it make a difference in a surprise mugging? Maybe not. Will it help if you're sitting at your desk and hear gunshots down the hall? Yes.
With that said, let's look at a number of carry styles that may work for you, based on your particular situation. Note that I'm not including off body carry options like purses, packs or day planners. While I understand these might be necessary for certain scenarios.
I would always choose a different non-traditional carry method. I prefer using a carry method that keeps my gun on my body, not in a bag that could be left unattended or taken from me. But that's my personal decision and your mileage may vary.
Belt Carry
For a single carry method, you've actually got a number of choices. There are inside and outside the waistband options.
You can choose different locations on your belt line ranging from cross draw to appendix to behind the hip.
For inside-the-waistband carry, my number one pick is the Galco KingTuk Inside The Waistband Holster.
The large leather panel of the hybrid design stabilizes your gun and spreads the weight around. The use of Kydex for the gun pocket keeps the whole rig as thin as possible and your gun securely in place.
For small to medium-sized guns, check out the super comfortable N82 Tactical brand holsters. ( http://www.n82tactical.com/products/holsters/ )
For outside / open carry, I like a good pancake-style holster. The large area and spread-out belt loops offer plenty of stability.
One of my favorites is the Blackhawk! Check Six. It's designed to be worn behind the hip and is heavily canted. This minimizes the length of cover garment you need to cover it up. If you prefer a less aggressive cant angle, take a look at the Mitch Rosen 5JR-EXP. If you want the convenience of easy removal, try the Galco Side Snap Scabbard. You can put it on and take it off without removing your belt.
Body Carry
There are a number of ways to carry a gun around your torso or belly area. The standard Belly Band is amazingly versatile if you invest some time experimenting with different placement locations, while using an unloaded gun.
You can wear it low, so it acts like a tuckable inside-the-waistband holster. The best part? When you tuck in a shirt or blouse, there are no telltale clips to give you away. You can also try wearing it higher, underneath a shirt or blouse. Last, but not least, a belly band can make a good cross draw solution.
Compression shirts for men and women feature an elastic holster under the arm. While harder and slower to access, concealment and gun security are both excellent. Your gun is completely hidden under a shirt and your arm aids in total concealment. If you evaluate this method, you must practice – a lot – with an unloaded gun. Drawing from under a pullover or buttoned shirt is a skill to be learned. Check out models from 5.11 Tactical and Undertech Undercover.
Ankle Carry
Ankle carry is great if you like to carry a small backup gun, but there are situations where it may present a viable primary carry option. If you spend most of your day driving, accessing a belt holster can be a challenge, and comfort leaves a lot to be desired. Depending on your car and body type, you may find that you can access your gun from an ankle holster faster and easier. Ankle carry might also present a solution for office bound types who spend ten hours a day in a seated position.
Like any alternative method, there is a downside. Access from a standing position is not fast or easy, and it forces you to "go to ground" in a sense just to get your gun.
Pocket Carry
Summer is upon us, as are shorts and t-shirts. It's hard to argue with the simple convenience of pocket carry, assuming you do it right. Normal pockets can conceal a smaller gun while cargo pockets can get you into mid-size gun territory.
You might want to check out the Recluse holster. It protects the trigger and features a large panel on the exterior side to mask the outline of your gun. (ps: no making fun of the presenter in this video)
Always, always, always use a holster when carrying a gun in any type of pocket.
One more thing. Practice with every type of pants or coat you intend to use. Some pockets can do a masterful job of catching your hand and/or gun on the way out during a draw.
Sexy Carry
There are a number of "underwear" options out there for men and women that offer the ultimate in deep concealment while still providing pretty fast access to your gun. I'll resist making a tasteless joke here.
Many, many women have success with either the Flashbang or Marilyn holsters from Flashbang Holsters. Both attach to different points on a bra and provide access from the bottom or top depending on which model you choose. The traditional Flashbang fits clothing styles that allow access reaching up from the waist area while the Marilyn works well with long dresses or tops with scoop neck designs where access is from the top.
For men and women, check out the compression shorts from Undertech Undercover. They include a pocket to secure your gun and protect the trigger. If you're wearing exercise clothing or anything loose, it's a great way to support the weight of the gun without a traditional belt holster.
You might also take a look at SmartCarry. This method uses a pouch and waist strap to carry a gun right over your business, below the belt line. Worn with roomier pants and carried low, it can be an effective way to get great concealment without sacrificing speed of access. (ps: no making fun of the presenter in this video, either)
Clothing Carry
There are a couple of interesting options on the market for concealed carry clothes. I'm not talking about clothes that conceal a gun carried another way, I'm referring to clothes designed to actually hold a gun.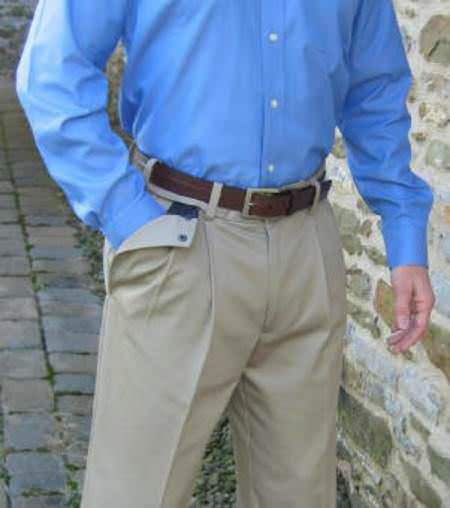 Coats and jackets are easy, but I wouldn't really consider these as default concealed carry options as you'll generally want to remove outerwear garments when you go indoors. There are a number of leather and denim vests that are more comfortable options for indoors wear.
You might want to check out CCW Breakaways pants. They're built with a heavy inner pocket that acts as a built in holster. The top section of the pocket "breaks away" with snaps when you draw so you don't have to worry about your gun getting hung up in your pocket. The inner holster compartment is adjustable for depth so you can carry anything from a full size gun to a pocket mini.
There are a number of ways you can safely carry a concealed gun on your person. My personal choice is almost always belt carry, either inside or out, but my current lifestyle allows me to do that most of the time.
If you have have dress code or other limitations, do a little homework on alternative carry methods – you just might find one that gives you the option to carry.
About
Tom McHale is the author of the Insanely Practical Guides book series that guides new and experienced shooters alike in a fun, approachable, and practical way. His books are available in print and eBook format on Amazon. You can also find him on Google+, Facebook, Twitter and Pinterest.