High Performance Spotlight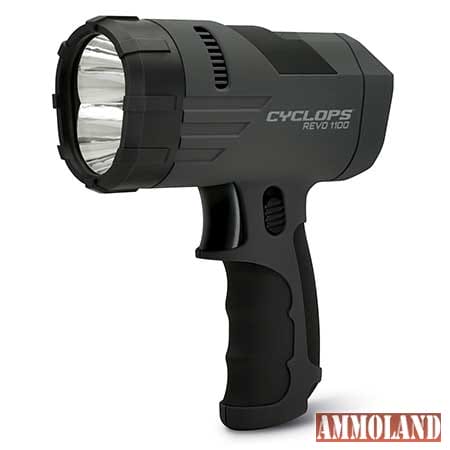 Grand Prairie, TX -(Ammoland.com)- Cyclops, an innovator in personal and field lighting solutions, continues to light the way for outdoor professionals and weekend warriors who demand reliability and performance in headlamps, spotlights and specialty lighting.
Just in time for summer camping season, Cyclops is now shipping the REVO 1100 Lumen Handheld Rechargeable Spotlight. Cyclops REVO 1100 Lumen Handheld Spotlight supplies outdoor enthusiasts with a device that can be operated ambidextrously and single handedly, with the ergonomically designed rubberized grip and trigger pulse/ always ON switch.
This spotlight has two high powered Luxeon LED lights that deliver a blinding 1100 lumens of bright white light. A vented housing reduces heat output of the REVO 1100, providing longer operations. The average burn time is 69 minutes and recharging the 6v 2.5 AH SLA battery is simple with an AC/DC adapter. It can also be recharged on the go with the included 12- volt DC car charger. The REVO 1100 includes a detachable red lens allowing users to operate at night without affecting their night vision.
REVO 1100 Lumen Handheld Spotlight Features:
• Light Output: 1100 Lumens
• 2 Hi-Power Luxeon LED
• Vented housing to reduce heat
• Dual recharge, AC/DC adapter or 12-volt DC Car charger (both included)
• Ergonomically designed rubberized grip w/trigger pulse switch
• Always ON lock switch
• Detachable red lens included
• Burn time: 69 min
• Light Output: 1100 Lumens
• Powered by 6v 2.5 AH SLA Battery (included)
• MSRP $ 139.99
For more information regarding Cyclops lighting solutions or to view their complete line of products please visit https://www.gsmoutdoors.com/cyclops/.
About Cyclops, LLC
Cyclops supplies the world with brilliant developments, designed with the outdoor enthusiast in mind and continues to design, reinvent and rediscover the illumination process in headlamps, flashlights and spotlights to provide safety and optimal performance. Each product goes through extreme, real-life testing before making it available to you. The end result – a high-tech, engineered device that brings you optimal performance. Cyclops is a division of GSM Outdoors.
For more information, visit www.GSMOutdoors.com/Cyclops.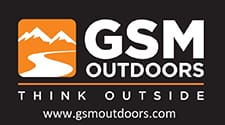 About GSM Outdoors
GSM provides a wide range of outdoor related products from brands such as Stealth Cam & Wildview scouting cameras, EPIC point of view action cameras, Walker's Game Ear hearing protection & enhancement, Maestro & Western Rivers game calls, Cyclops portable lighting & power, American Hunter & Feeder Max feeders, SSI shooting accessories, and XONE base layer apparel. They go to great lengths to ensure their products deliver the latest features and the rugged durability you demand. So whether you're a seasoned hunter or a weekend outdoor enthusiast, GSM has just what you need to make the most of your outdoor experience. To become a dealer or have a sales representative contact you, please call (469) 586-0428.
For information regarding GSM and their products please visit www.gsmoutdoors.com.