Government-commissioned Singer Mfg Model 1911 A1 semi-automatic pistol expected to make $80,000-$120,000
Denver, PA -(Ammoland.com)- More than 800 lots of top-notch firearms, knives and ammunition will be offered at Morphy's May 23 auction, led by one of the great rarities of the Colt collecting field: a Singer Mfg Model 1911 semi-automatic pistol.
Known worldwide for its high-quality sewing machines, Singer was granted a government commission in 1940 to produce 500 Colt-designed Model 1911 A1 pistols for the US Army Air Force. The example in Morphy's sale is identified through its serial number as being the 170th pistol of the production run. To ensure its absolute originality, Morphy's asked noted Colt 1911 authority Eric Gustafson to disassemble the gun and compare each of its parts to those of a known-original Singer 1911 A1.
"The comparison showed that every aspect of the pistol in our sale is 100% correct and original," said Morphy Auctions founder and president Dan Morphy. "Also, it appears as if the gun saw little or no use at all, and therefore it should be regarded as one of the finer-condition Singers ever to reach the open market."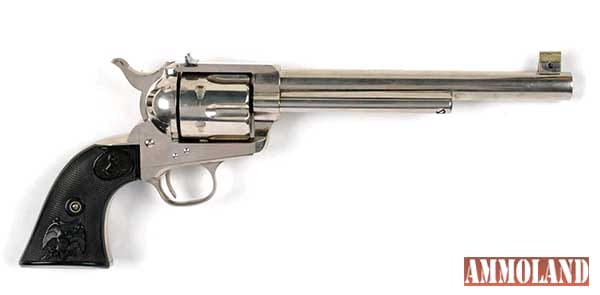 Entered as Lot 285, the pistol is expected to make $80,000-$120,000. Another very rare gun is Lot 718, a Colt S.A.A. flat-top nickel .32 target model. Only nine flat-top single-action target Colt Armies were ever manufactured in the .32-.44 Smith & Wesson cartridge. Of those nine, one can only speculate as to how many were factory nickel-finished like the one in Morphy's sale.
"The action works like a Swiss watch, the bore is excellent, and the condition overall is breathtaking. This is one of the rarest, if not the rarest, Colt single-action Armies in existence," said Morphy's Firearms Division expert Dave Bushing. The gun, which originally shipped in 1889, is estimated at $15,000-$20,000.
Other prized handguns include Lot 284, an unfired, boxed US&S Switch & Signal Colt 1911 pistol produced under government commission in 1943, which is estimated at $6,000-$9,000; and Lot 577, a high-condition Remington Model 1875 single-action Army revolver whose production run was from 1875 to 1889.
Lot 577 – High-condition Remington Model 1875 single-action Army revolver of the type used by outlaw Frank James, estimate $4,500-$7,500. Morphy Auctions image

"This model is best known for having been the favorite handgun of outlaw Frank James of the James Gang," Bushing noted. Estimate: $4,500-$7,500.

Several very fine rifles will cross the auction block. Lot 480 is a .44 caliber US Martial Contract Henry lever-action rifle whose serial number confirms it was issued to Company B of the First DC Cavalry. This unit participated in many Civil War battles, including Gettysburg, Spotsylvania and Cold Harbor; and was responsible for the capture of John S Mosby, the Confederate Army commander nicknamed the "Gray Ghost." The rifle is extremely clean with perfect factory stamps, and its action is flawless. Estimate: $25,000-$45,000.
Two particularly beautiful sporting rifles will take the auction spotlight. Lot 662, an exquisite Ernest Dumoulin (Belgian) Deluxe Sporting Rifle, was custom built by Dumoulin himself. It was crafted utilizing the Mauser long action and chambered for the classic and powerful .375 H&H cartridge.
"This luxury firearm is a work of art and demonstrates the quality and excellence of one of the masters of gunmaking," said Bushing. Its pre-sale estimate is $25,000-$40,000.
The second sporting rifle warranting special mention is Lot 655, a Maynard French-fitted First Model that was presented to William G Freeman, an arms industry executive who played a significant role in gun production during the Civil War. The innovative design of the Maynard allowed the user to have a single gun with three barrels. This versatile feature allowed the user to adapt swiftly to various situations. The circa-1856 gun still exhibits 90% of its high-polish fire-blue finish and has its original accessories and case.
"This rifle would be a prize in any collection. We will never see another one quite like it," Bushing said. Estimate: $20,000-$25,000
All firearms are available to preview at Morphy's gallery from 9 a.m. to 4 p.m., now through auction day. On Friday, May 22, from 5-9 p.m., Morphy's will host a special preview night for collectors or those with an interest in starting a collection. Cocktails and refreshments will be served at this friendly social gathering, and experts from Morphy's Firearms Division will be on hand to answer any questions pertaining to guns entered in the auction or in general.
All forms of bidding will be available for Morphy's May 23, 2015 Firearms, Knives & Ammunition Auction, including in person at the gallery, over the phone, absentee or live via the Internet through Morphy Live.
The auction will begin at 9 a.m. Eastern Time. Morphy Auctions is located at 2000 N. Reading Road in Denver, PA 17517. For additional information on any item in the sale or to reserve a phone line for bidding on auction day, call 717-335-3435 or email [email protected]
Visit Morphy Auctions online at www.morphyauctions.com.
About Morphy Auctions
Morphy Auctions, located in Adamstown PA, is one of the largest auction houses under one roof. Counting on decades of experience running successful antique auctions for both sellers and buyers, the team at Morphy Auctions aims to delight our clients with fresh-to-the-market auctions, professionalism and state-of-the-art auction venues.
For more information, please visit www.MorphyAuctions.com.