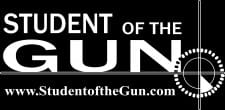 Biloxi, Mississippi — (AmmoLand.com) – Professor Paul and Student of the Gun Radio have a special treat in store for the SOTG Grad Program subscribers; an entire Grad Week filled with feature length interviews of some of the biggest names in the gun culture and shooting world.
During the week of June 1-5, 2015, SOTG Grad Program members will exclusive access to these one of a kind interviews between Professor Paul and some of the living legends in the firearms world. We will be interviewing:
James Yeager: MFCEO of Tactical Response of Camden Tennessee; Sheriff's Deputy, Military Contractor,  Reality TV star and soon to be movie star.
Massad Ayoob: World renown trainer, author and use of force expert. Mas has been writing and teaching for more than three decades and author numerous books regarding justifiable self-defense.
Bill Wilson: Founder of Wilson Combat, Accomplished Competitive Shooter, Big Game Hunter. Bill started Wilson Combat as a one man operation and built it into the most respected custom M1911 manufacturer in the United States.
Dave Spaulding: Veteran Police Officer, Professional Training and Author of "Handgun Combatives."  Dave has been a dedicated student of handgun fighting for decades and has much to say about mastering the most popular American defensive tool.
You can get more information HERE.
---
Student of the Gun Radio airs every Monday through Thursday  at 9 a.m. EST and can be found by going directly to www.StudentoftheGunRadio.com. Those using mobile devices can follow us with iTunes or Stitcher.
SOTG Radio is a Think On! production. Student of the Gun is the #1 source for education, enjoyment and enlightenment of real-world firearms including: training, videos, radio, books and articles. A beginner once, a student for life.
Being a Student of the Gun is not about being a novice or beginner. Student of the Gun represents a lifelong journey of education, enlightenment and the enjoyment of firearms.
Each episode will introduce the viewer to new and interesting firearms as well as the latest gear to go with them. We will travel throughout the United States, seeking the advice and expertise of the best firearms trainers available.
Sometimes deadly serious, sometimes just for fun, Student of the Gun will always strive to educate and entertain our viewers while offering them an insiders' look at the worlds of firearms.
---
About the Host
Paul G. Markel has worn many hats during his lifetime. He has been a United States Marine, police officer, professional bodyguard, and small arms and tactics instructor. Markel has been writing professionally for law enforcement and firearms periodicals for nearly 20 years, and has hundreds of articles in print. A regular guest on nationally syndicated radio talk shows, Markel is a subject matter expert in firearms training and use of force.
Mr. Markel has been teaching safe and effective firearms handling to students, young and old, for decades and has also worked actively with 4H Shooting Sports programs. Markel holds numerous instructor certifications in multiple disciplines; nonetheless, he is, and will remain a dedicated Student of the Gun.
---
About the Co-Host
Not just another pretty face, Jarrad Markel has experience and training beyond his years. Jarrad has been training to be a fighter since elementary school when he first learned the art of collegiate wrestling.
Now skilled in Jujitsu, Judo, Muay Thai, Sambo, the Way of the Fighting Pistol and Fighting Rifle, Jarrad is a well-rounded, tactical athlete with several professional MMA fights under his belt.
More than a brute, Jarrad has brains as well. He is the lead editor and videographer for Student of the Gun and works directly for Think On! Productions creating a wide variety of video material. In addition, Markel is a skilled web & blog designer, building material for the Internet side of the house.