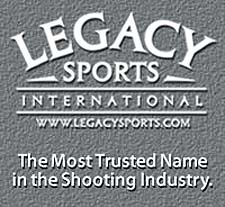 Reno, NV -(AmmoLand.com)- Gene Lumsden, CEO of Legacy Sports International, Inc. proudly announces that Legacy Sports is now offering short action detachable magazines and magazine kits to fit Remington 700 rifles in .204, .223, .243, 7mm-08 and .308.
Long action magazines and conversion kits for the Remington 700 long action rifles in .25-06, .270, 30.06, 6.5 x 55, .300 Win. Mag., .338 Win. Mag. and 7mm Rem. Mag. calibers will be available in the next 60 to 90 days.
All kits and magazines are made of tough polymer construction and are priced well below many competitive products. In fact, they are offered at a fraction of the cost of other Remington 700 Mag kits! Short action and standard long action kits and magazines are available in 5 or 10 round capacities, while long action magnum calibers will be available in 5 round capacity, only. All of these kits are drop-in ready, and can be installed in minutes.
Conversion kits are packaged in clamshells labeled specifically for Remington 700 barreled actions in short action and long action calibers, and all packaging has been designed for easy merchandising and consumer recognition. Made in the U.S.A.
Legacy Sports International will begin shipping the SHORT ACTION kits immediately. These are a great deal on a great product that has been proven with LSI's AMMO BOOST detachable magazine systems for Howa short action conversions.
Contact: Rick Homme • Legacy Sports International, Inc. • 775-828-0555 or [email protected]
About Legacy Sports International, Inc.
Legacy Sports International is known to be the importer and distributor of the finest "out of the box" firearms for America and the world.
For more information, visit: www.legacysports.com.