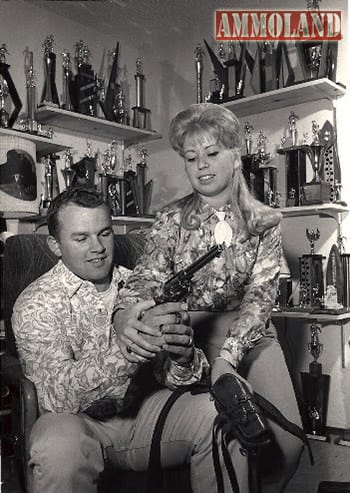 Cody, WY -(AmmoLand.com)- Throughout history, exhibition-shooting couples like Annie Oakley and Frank Butler, and Ad and Plinky Topperwein have impressed audiences with their precision feats.
In the 21st century, Bob and Becky Munden followed in those same footsteps with live and lively performances of their own and televised exhibitions. "You'll never find Bob without Becky," the television series Shooting USA has said.
On July 27 and August 10, at the Buffalo Bill Center of the West, Becky Munden brings stories of the 40-year career she shared with her late husband, Bob. The talks, "Only in America," take place in the Center's Coe Auditorium at 12:15 p.m. and are free to the public.
The couple's "shot at love" came when they first met at a shooting event in 1963. At the time, Becky's brother Bill was involved in Fast-Draw competition. Bill's wife encouraged Becky to attend a training session so that she could meet one particular champion, Bob Munden. Soon after, Becky adopted the sport; coincidentally, her first opponent was her future husband. Unlike Frank Butler who was bested by his then future wife, Annie Oakley, Bob won that first match with Becky. She didn't hold it against him, though, and like the Butlers, the couple eventually married in 1964.
Individually, Bob and Becky were champions. Bob set 18 World Records in Fast-Draw. He was listed in the Guinness Book of World Records and appeared on television shows such as American Shooter, Shooting USA, Impossible Shots, and Ripley's Believe it or Not!. Meanwhile, Becky helped paved the way for women in the shooting sports. She also set a world record listed in the Guinness Book and won several titles in Fast-Draw.
Many also knew Bob as a master gunsmith. He taught himself to customize single action revolvers with "Six-Gun Magic" so they could withstand the rigors of intense use at high speeds.
By 1968, Bob and Becky decided to provide for their new family doing what they did best: They developed traveling shows—using live and blank ammunition—that would not only entertain, but educate. The Mundens were strong advocates for firearms safety, teaching not only the general public, but children at National School Assemblies.
For more than four decades, the Mundens traveled, performed, competed, and taught until their final performance near Kansas City, KS in 2010. They not only inspired the firearms industry, but represented the shooting sports as a safe and enjoyable pastime for generations to come.
Bob passed away in 2012, and today, Becky continues his legacy. The Center of the West's Cody Firearms Museum currently has an exhibit about the Mundens' career and has numerous artifacts from the exhibition shooting days on loan from the Munden family.
For more information, contact Firearms Curator Ashley Hlebinsky at [email protected] or call 307.578.4092.
About Buffalo Bill Center of the West
Since 1917, the award-winning Buffalo Bill Center of the West in Cody, Wyoming, has devoted itself to sharing the story of the authentic American West. The Center, and affiliate of the Smithsonian Institution, is currently operating its winter schedule, open 10 a.m. – 5 p.m. Thursday – Sunday.
For additional information, visit centerofthewest.org or the Center's pages on Facebook and Google+.