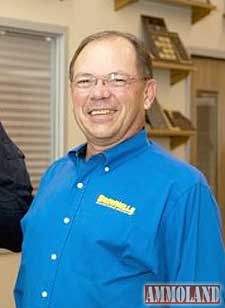 MONTEZUMA, Iowa -(Ammoland.com)- Summer's here and I hope you're making the most of it at the range, the trap or skeet field, the back 40 – or wherever you like to shoot.
Some of the Brownells gang had a blast at the Hornady Zombies In The Heartland match at Grand Island, Nebraska. There were fun stages, creative targets, and lots of new shooters running all sorts of guns.
Take a look at these neat videos, including some footage taken by a remote-controlled drone giving an overview of the stages. Looks like a heckuva party – and it was!
If you're new to competition or if you're looking for an easy and really fun way to get involved, put the 2016 Hornady Zombies match on your calendar.
If you're an experienced shooter, this could be just the ticket to liven things up! Dates aren't on the Hornady website yet, so keep checking. 2015 was the end of May, and there are lots of pictures of it!
Industry Trends –
We keep seeing statistics showing more and more women are becoming gun owners, getting concealed carry permits, and joining in the shooting sports. If you own a gun store or are involved in training, this is a great opportunity to reach out to a new, fast-growing market. You might even consider getting involved with shooting events for women.
One example is the Brownells Lady 3-Gun match. The west coast edition was a whopping success earlier this year, with 200 women participating. And the east coast match is scheduled for October 2-4, 2015, at the Clinton House Plantation in Clinton, South Carolina.
Brownells also helped out with the most recent Girl And A Gun Conference. Our guy J.J. Schroeder, from our Merchandising department, taught a class on building an AR-15, while Jenn from our web department made the trip to Texas to learn more about firearms and shooting. She had whale of a good time and can't say enough enthusiastic things about the experience.
And ladies, if you're already into shooting, consider becoming an NRA-certified firearms instructor. Helping new shooters get into the sport is a great experience for anybody – and we need many more women instructors to teach the new lady shooters. Hate to say it, but it seems ladies learn faster from other ladies.
New At Brownells –
We're always looking for new products to help you get the most enjoyment from your shooting experience, and now we've got a new way to keep you "in the loop". The Brownells New Product Center is a handy one-stop spot on our website to find out about the newest products in our warehouse. Every week, we put up a video to show you. We'll leave the videos up on the website for a while, plus they're all on our YouTube Channel too. If you miss a week for whatever reason, you can catch up. Make the New Product Center a regular stop when Internet surfing – no telling what we'll add next…all of it stuff we think you'll find interesting and useful in enjoying your shooting sport of choice.
Among our newest product additions is Team Never Quit ammunition. One of the key members of Team Never Quit is Marcus Luttrell, whose experiences as a U.S. Navy SEAL in Afghanistan were the inspiration for the movie Lone Survivor. We're pleased to carry his ammo.
TNQ has loads for training and self-defense, along with premium brass for folks who want to load their own.
If you're looking to build a "retro" AR-15, boy have we got something for you! Our Brownells 20″ M16A1 profile barrel comes complete with front sight tower, delta ring, and 1-12″ rifling that is perfect for 55 grain FMJ bullets. Even if you aren't into old-school Black Rifles, this skinny barrel is ideal for building one very handy, light, maneuverable rifle – just what the AR-15 was meant to be!
To keep your guns safe when you're transporting them here and there, we've added an impressive selection of Negrini cases. These cases, used by many top professional shooters, have looks and styling more like high-quality luggage than traditional gun cases. They protect your gun with tough, double-wall shells, fully padded plush interiors, and a pair of hardened-steel combo locks. We even have Negrini cases for your binoculars and extra shotgun barrels.
Seems like lots of folks are discovering bow fishing, like our friends at AmmoLand. It's a fine way to combine two great sports: fishing and archery. If you've ever thought about trying it out, try this brand-new bow fishing package from FinFinder to get you started, using a bow you already own. Something really cool to do in summer!
Staying Vigilant –
There's no way around it, the firearms industry is hugely affected by politics. If you're involved with the industry at all, or value your right to own a gun, you absolutely have to keep up with the political scene.
Politics certainly contributed to the recent huge swings in the firearms market, starting in 2013 with record sales of guns, especially semi-autos like the AR-15, and magazines. That big spike was followed in 2014 by a downturn, as folks who had spent several years' worth of "guns and gear" budgets hunkered down and cut back on buying. The downturn was predictable, and the curve has already turned the corner and starting to move up, but it has been quite a challenge for manufacturers and suppliers.
On the flip side, it's turned out to be a great time to be looking for a new gun or accessories – lots of bargains right now!
Another recent development – with potentially alarming effects – is proposed changes to ITAR. The NRA-ILA reported that the State Department is considering revising the International Traffic in Arms Regulations, commonly called "ITAR". To read the proposed changes in their original form, check out the notice in the June 3 Federal Register announcing their intentions. Why should you be concerned? The short explanation is they could make it illegal to post or publish any "technical data" about firearms in the "public domain" without first getting government permission. Just imagine what would happen to your favorite gun blogs, news websites, forums, magazines, YouTube channels, or any other "public domain" outlet for information about guns if they all had to first ask permission from the government before publishing any "technical data" about firearms?
This looks like another attempt to clamp down on gun owners, manufacturers, and publications by rules and regulations without involvement of Congress, a procedure we've seen frequently.
What can you do about this? The State Department is accepting public comments on these proposed changes to ITAR until August 3, 2015. Be sure to submit your comments – and remember to be a good ambassador for gun rights. And once you've submitted your comments, contact your Senators and Representatives in Congress with a copy of your letter to the State Department to let them know your concerns. In fact, a phone call to the staff person handling this issue would be appropriate, too.
Let Us Never Forget What's Important –
As you got together with friends and family over the past weekend to celebrate the Independence Day holiday, I hope you took a moment to give thanks for the people who sacrificed so much to win our freedom – and the men and women who serve in our U.S. military right now to preserve it.
These are our true heroes today and they deserve our support in any way we can give it.
About Brownells
Serious About Firearms Since 1939, Brownells is the world's leading source for gun parts and accessories, ammunition, gunsmithing tools, survival gear and archery. With a large selection of both common and hard-to-find items, and an extensive collection of videos, articles, and gun schematics, Brownells is the expert for everything shooting-related. Committed to maintaining our great traditions, Brownells has more, does more and knows more – and guarantees it all, Forever. For more information or to place an order, call 800-741-0015 or visit Brownells.com. Stay up-to-date with Brownells on YouTube, Facebook, Twitter and Instagram.