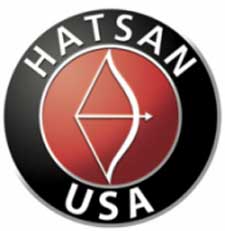 Ismir, TT -(AmmoLand.com)- As the fan-base for under-lever airguns has began to significantly grow, HatsanUSA is proud to announce the release of its new Torpedo 150 Sniper Combo airgun.
This new offering from HatsanUSA is based off its original Torpedo 150 fixed barrel / under-lever rifle, but now includes a number of upgrades.
HatsanUSA has fitted the Torpedo 150 Sniper Combo with an integrated sound moderator in the muzzle break to aid in reducing down-range noise. The under-lever airgun is also fitted with an ambidextrous thumbhole-style stock with an adjustable cheek rest. Inside, this new airgun offering is fitted with HatsanUSA's Vortex Gas Piston System, which provides numerous advantages over conventional springs.
By using a Vortex Gas Piston, the Torpedo 150 Sniper Combo can remain cocked for long periods of time without causing any damage to the airgun and provide shooters with more consistent power between consecutive shots. Vortex Gas Pistons also eliminate most vibrations caused by the oscillation of heavy springs and have a significantly longer lifecycle than spring-powered airguns – providing higher and more consistent velocities over their lifetime.
Like all airguns from HatsanUSA, nearly every component of the Torpedo 150 Sniper Combo is made in-house by the Turkish manufacturer – including its precision-rifled German steel barrel and fully adjustable two-stage Quattro trigger system.
The Torpedo 150 Sniper Combo is available in .177 (1250fps), .22 (1000fps) and .25 (750fps) calibers and has an MSRP of $399.99
Torpedo 150 Sniper Combo:
Under-lever cocking system with bolt-action loading mechanism
Available in .177 cal (1250 fps), .22 cal (1000 fps), .25 cal (750 fps)
Fully adjustable 2-stage Quattro Trigger System
SAS Shock Absorber System
Precision rifled steel barrel
Manual and automatic cocking safety
Anti bear-trap safety
Ergonomic and stylishly designed ambidextrous synthetic thumbhole stock
Elevation adjustable comb
DynaPad recoil pad system for maximum recoil absorption
Heavy-duty secure 11mm/22mm Weaver style scope mounts
Micro-adjustable rear sight for both windage and elevation with TRUGLO fiber optics
Includes: bipod and 3 TRIOPAD stock spacers to change length-of-pull
About HatsanUSA Inc.
HatsanUSA Inc. gives U.S. customers the first opportunity to purchase Hatsan airguns, known and respected throughout the world for their premium Turkish craftsmanship, quality, and hard-hitting performance direct from Turkey.
For more information, visit: www.HatsanUSA.com.