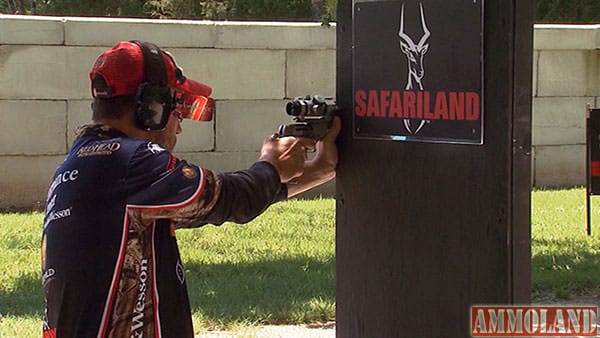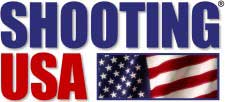 Nashville, TN -(AmmoLand.com)- Shooting USA – World Championship of NRA Action Pistol
This week, it's the NRA Action Pistol Championship. The world's best compete for the Bianchi Cup. Plus, the rifle for the early frontier, the Hawken is one of History's Guns. And we're Talking Tech on .38 caliber bullets and how the cartridges got their names.
Shooting USA's Impossible Shots – Jerry vs. The Machine 
Julie Golob takes over the show as host to introduce Jerry Miculek being challenged by an unpredictable target machine. Can Jerry cut a card when he doesn't know where it will appear?  Plus Cisko has gone Hollywood on us, with two-gun fast draw! And that gets Impossible when he adds an exercise ball to turn everything upside down.
NEW! AIR TIMES BY TIME ZONE
The Shooting USA Hour Wednesday:
Eastern Time: 3:00PM, 9:00PM, 12:00 AM Thursday
Central Time: 2:00 PM, 8:00 PM, 11:00 PM
Mountain Time: 1:00 PM, 7:00 PM, 10:00 PM
Pacific Time: 12:00 Noon, 6:00 PM, 9:00 PM
Shooting USA is listed as a one-hour show in your cable menu.
Shooting USA's Impossible Shots:
Wednesday:
Eastern Time:  7:30 PM, 11:30 PM, 2:00 AM Thursday
Central Time:  6:30 PM, 10:30 PM, 1:00 AM Thursday
Mountain Time: 5:30 PM, 9:30 PM, 12:00 Midnight
Pacific Time: 4:30 PM, 8:30 PM, 11:00 PM
USPSA Handgun Nationals
John and the crew head to Florida this week, where the fastest handgunners in USPSA run and gun for the national titles.  He's covering the Limited and Open Divisions, to bring the action to you in the coming weeks!
Stay Connected
Be sure to "Like" Shooting USA on Facebook for behind-the-scenes coverage: https://www.facebook.com/JimScoutten.ShootingUSA
And, on Instagram!
https://instagram.com/shootingusa
Jim
Defending the 2nd by Example in the 22st Year
[email protected]
About Shooting USA:
Jim Scoutten, America's Most Watched Firearms Reporter, has been on the beat for 14 years, reporting the stories of the Shooting Sports and the firearms Industry. The show produces a series of popular segments focusing on historical guns, the personalities in the sport and industry, insider reports from gun tests, and practical tips from shooting sports pros. The show appeals to shooting sports enthusiasts of all ages and skill levels by providing practical tips on safely handling, modifying and repairing their favorite guns.
For more information, please visit www.ShootingUSA.com.