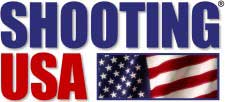 Nashville, TN -(AmmoLand.com)- Shooting USA – IPSC Tactical Shotgun  
This time it's the IPSC Tactical Shotgun Championship in Kentucky. Plus, the rifle German paratroopers took to the battlefields during World War Two. The rare FG-42 is now one of History's Guns. And, it's back to school with the Master of the Longbow, to learn to shoot targets out of the air.
Shooting USA's Impossible Shots – Miculek Family Feud
Shooting's first family goes head-to-head in two-gun competition. Kay and Lena team up to take on Dad, Smith & Wesson Pro, Jerry Miculek. The competition is fierce as the Kay and Lena try to de-throne Jerry.  Plus, The Master of the Longbow, Byron Ferguson, tries a new career as a Lumberjack, but only Byron splits wood like this.
AIR TIMES BY TIME ZONE
The Shooting USA Hour Wednesday:
Eastern Time: 3:00PM, 9:00PM, 12:00 AM Thursday
Central Time: 2:00 PM, 8:00 PM, 11:00 PM
Mountain Time: 1:00 PM, 7:00 PM, 10:00 PM
Pacific Time: 12:00 Noon, 6:00 PM, 9:00 PM
Shooting USA is listed as a one-hour show in your cable menu.
Shooting USA's Impossible Shots:
Wednesday:
Eastern Time:  7:30 PM, 11:30 PM, 2:00 AM Thursday
Central Time:  6:30 PM, 10:30 PM, 1:00 AM Thursday
Mountain Time: 5:30 PM, 9:30 PM, 12:00 Midnight
Pacific Time: 4:30 PM, 8:30 PM, 11:00 PM
Revival of Ft. Benning's 3-Gun Match
The U.S. Army Marksmanship Unit is bringing back its popular multi-gun match for civilians on an active U.S. Army base. John and the crew travel to Georgia to cover the run-and-gun action. Stay tuned for a behind-the-scenes look!
Exclusive NRA Membership Offer
For a limited time, you can become a Life Member of the NRA for $500. Shooting USA is offering an exclusive discount until December 31. NRA dues increase to $1,500 on January 1. Join today:
http://www.shootingusa.com/LATEST_UPDATES/NRA_news/NRA_Membership/nra_membership.html
Stay Connected
Be sure to "Like" Shooting USA on Facebook for behind-the-scenes coverage: https://www.facebook.com/JimScoutten.ShootingUSA
And, on Instagram!
https://instagram.com/shootingusa
Jim
Defending the 2nd by Example in the 22st Year
[email protected]
About Shooting USA:
Jim Scoutten, America's Most Watched Firearms Reporter, has been on the beat for 14 years, reporting the stories of the Shooting Sports and the firearms Industry. The show produces a series of popular segments focusing on historical guns, the personalities in the sport and industry, insider reports from gun tests, and practical tips from shooting sports pros. The show appeals to shooting sports enthusiasts of all ages and skill levels by providing practical tips on safely handling, modifying and repairing their favorite guns.
For more information, please visit www.ShootingUSA.com.