The Apparel Company Shifts Focus to Accommodate Growing Customer Base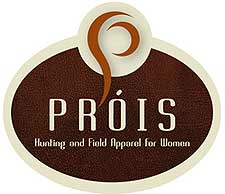 Gunnison, CO -(AmmoLand.com)- The New Year is fast approaching and 2016 is full of exciting things to come for Próis.
In addition to a fresh new look and great new gear, the apparel company is taking its show schedule directly to consumers. A rapidly growing female hunting market brings increased sales and more demand for the women's hunting gear we all know and love so much.
In order to accommodate new and existing customers, Próis plans on shifting their focus to consumer shows rather than trade shows. You can find them at the following events: RMEF Hunter and Outdoor Christmas Expo, Dallas Safari Club, Wild Sheep Foundation Convention, Safari Club International, Western Hunting and Conservation Expo, and the NRA National Convention. In addition, Próis will be present at most of the ladies functions connected to each event. They have opted to forego the ATA Trade Show and the SHOT Show in order to attend this new variety of consumer-based shows.
"Do not be misled, Próis is better than ever," said Kirstie Pike, President/CEO of Próis Hunting and Field Apparel. "We look forward to doing what we do best: connecting with female hunters and shooters across the country. It is, after all, what sets us apart from all the rest."
Próis was created for women, by women who refuse to settle for downsized men's gear or upsized children's gear. Each garment is created with the most technologically advanced fabrics available and a host of advanced features to provide comfort, silence and durability. The company's out-of-the-box thinking has resulted in amazing designs for serious hunters that have taken the industry by storm and raised the bar for women's outdoor apparel.
To learn more about the company's innovative line of serious, high-performance huntwear for real women, contact: Próis Hunting and Field Apparel, 28001-B US Highway 50, Gunnison, CO 81230 · (970) 641-3355 · Or visit: www.proishunting.com.
About Próis Hunting Apparel:
Prois Hunting Apparel for Women (pronounced 'pro-iss') manufactures athletic, technical hunting and shooting clothing for women. Visit us and see what products our staff suggests for hunting big game!
For more information, visit: www.ProisHunting.com.