Editors Note: Please vote for Sean Maloney in his re-election for NRA board this year.. A home grown, grass roots, activist and not another celebrity vote grabber. He needs and deserves your vote to stay on NRA board where he can make a difference in our fight to keep and bear arms. ~ Fredy Riehl Editor AmmoLand Shooting Sports News.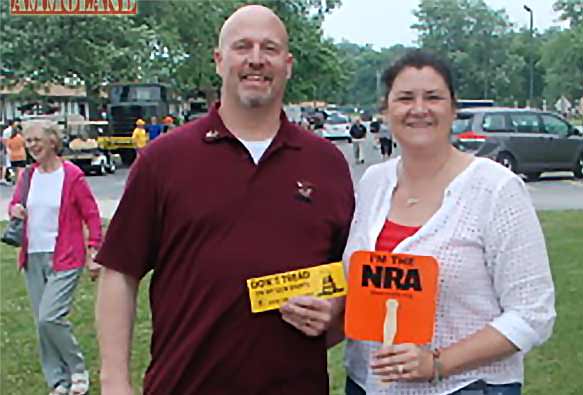 USA –  -(Ammoland.com)- To My Fellow Voting Members of the NRA:
As a Current Board Member Recommended by the Nominating Committee for reelection; Renominated by a petition of the NRA Members; a Benefactor Life Member and volunteer for the NRA, I am again seeking your support and endorsement.
My past work and dedication have been recognized by the NRA: As recipient of the 2010 NRA-ILA "Jay M. Littlefield Memorial Volunteer of the Year Award;" 2011 Inductee NRA-ILA "Election Volunteer Coordinator Hall of Fame;" 2013 Friends of the NRA "Area Volunteer of the year;" and most humbly being Recommended by the Nominating Committee for reelection.
I was also renominated by Petition of the NRA Members (like you) to appear on the ballot allowing me to seek reelection to the NRA Board of Directors.
For as long as I can remember, I have been involved with firearms and the fight for firearms rights.
As a volunteer referral Attorney for the National Rifle Association, and Buckeye Firearms Association, I have volunteered my services in the area of Firearms Rights; Criminal Self Defense; as a NRA Instructor to help those in need; and by serving as your voice on the NRA Board of Directors.
These past years I traveled to Colorado and presented myself as a volunteer to help recall two anti-gun Colorado State Senators. These two Senators were responsible for stripping fundamental gun rights from Colorado Residents, and all who visit or pass through Colorado. Then off to Virginia, a few months later in 2013, fighting alongside the NRA ILA to successfully maintain a pro-gun Senate.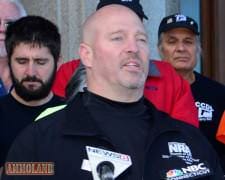 In 2014 I traveled to Connecticut, and again volunteered with the NRA ILA to assist the endorsed NRA Candidates under attack.
After doing what I could in Connecticut, I flew directly to Iowa, and spent the last 5 days of the election cycle going door to door; meeting at gun stores; and coffee shops to get out the pro-gun vote. Connecticut to Iowa, back to back, it was a whirlwind trip for me, but worth every second.
Then in 2015, once again to Virginia in October and November, to fight against the 2.3 million dollars Bloomberg spent to try and buy the Virginia election; and steal away the God given rights of Virginians.
I volunteered my time with the NRA ILA, and also campaigned on my own for the pro-gun Virginia Senate Candidates under attack. We won, and sent Bloomberg packing!
I am nobody special; just a NRA Member that couldn't sit back and watch as fellow NRA Members; Americans lose their unalienable Second Amendment rights.
I have always campaigned on behalf of, and supported those candidates for political office who share our same values and are dedicated to protecting and advancing our Second Amendment rights.
Early on, I recognized that our Second Amendment Rights are borderless; when freedom was under attack I traveled throughout the United States to assist NRA Endorsed Candidates in their bid for election or re-election. I am happy to say that liberty prevailed, but the fight never ends.
By fighting alongside our brothers and sisters in Colorado, Connecticut, Iowa, Ohio, Pennsylvania, and Virginia I have gained valuable insight related to how to fight for and win our battles which lie ahead.
I have never taken the support and assistance I have received from fellow NRA Members for granted, and I am hopeful I have continued to earn your respect and support. I am again asking you, my fellow voting members of the NRA, to continue to place your trust in me, and once again vote for me to represent you on the NRA Board of Directors. If you support me with your vote, I promise to continue to do all that I can to fight, and defend the liberties passed down to us, from generations of heroes.
Yours in freedom,
Sean Maloney
Connect with Sean Online: