By Mike Searson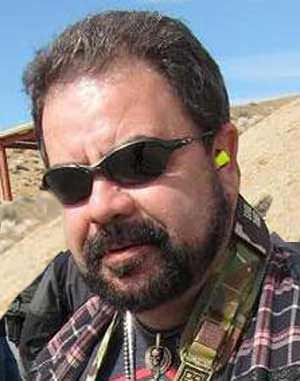 USA -(Ammoland.com)- The Israeli Uzi SMG is the quintessential second generation sub gun.
It is so iconic that even non-gun folks know what it is when they see it. The only thing more fun than firing a 32 round magazine from an Uzi on full auto is doing it while suppressed. One of the cans to do this with is the Bowers Vers-9S Silencer.
A little history on the Israeli Uzi SMG:
Designed by General Uziel Gal in the 1950s, the Uzi SMG fires from an open bolt and is most commonly chambered in 9mm, although it can be found in 45 ACP, 41 AE (Action Express), 40 S&W and even 22 lr.
From the Six Day War to the Raid on Entebbe to the day President Reagan was shot and the Secret Service pulled them from DeSantis shoulder rigs and Halliburton briefcases to protect the President, there is no mistaking its profile. A casual look through the IMFDB (Internet Movie Firearms Data Base) reveals its appearance in hundreds of films, TV shows and video games, further cementing it in the public's mind.
Unfortunately a real Uzi SMG is hard to find in the US. The Gun Control Act of 1968 banned its importation as a machine gun and the 1986 Hughes Amendment to the Firearm Owners Protection Act, restricted further conversions on legal semi autos. Various state bans on so-called assault weapons (New Jersey,,, screwed again) and the 1994 Federal Assault Weapon Ban singled the Uzi out by name.
Luckily we were able to procure a Pre May 1986 Dealer Sample. Ours is a true IMI (Israeli Military Industries) Open Bolt Military Issue submachine gun and not a semi that was converted.
We just had to try it out with a silencer so we called Silencer Shop for some advice as we have 4 pistol cans that are full auto rated but needed some sort of adapter.
Our good friends at Silencer Shop advised us that while our pistol cans would work, the only way they could be used would be by threading the barrel on the Uzi. We didn't really want to go that route, particularly since the full auto setting would guarantee that the can would loosen up and end up with a baffle strike or worse.
They sent us a pair of Uzi silencers to test out made by the Bowers Group of Cornelius, Oregon: The Vers9 and the Vers9S.
This review will center on the shorter version, the Vers9S. Check out the review on the larger can over at RECOILWEB.com.
Bowers Vers-9S Silencer The Good
Bowers Vers-9S Silencer is a high volume submachine gun can. It was designed with full auto firearms in mind and can be used on HK MP5 variants, Uzis, Macs and other 9mm sub guns or semi auto variants of the same.
The Bowers Vers-9S Silencer is so heavy duty that it can be used with 300 Blackout and 300 Whisper rounds with velocities up to 2200 fps.
We ran it on the Uzi and from the shooter's ear, the bolt slamming home made more noise than the rounds did. The result was the same on the 300 Blackout rifle we tried it on with subsonic ammunition. It may not be the best solution for that purpose, but you do get the versatility.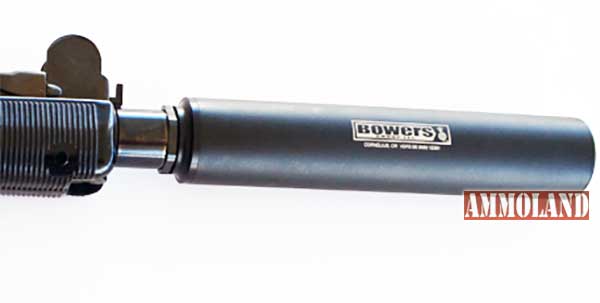 Bowers Vers-9S Silencer The Bad
The Bowers Vers-9S Silencer is a bit on the heavy side, but that's what you want when silencing a subgun.
As versatile as it is, this is a can for the NFA domain, so if you want something to put on your Glock 19. Sig P226 or threaded HK, you should look for something else.
There is no Nielsen device and even if there was the weight of this silencer would turn your semiauto pistol into a single shot.
Bowers Vers-9S Silencer The Reality
Full auto shooters in search of a high volume can that suppresses quite well will be fans of this amazing piece of machinery. For the shooter that has multiple hosts in the order of MP5s, MAC-10s, Uzis, Stens, Sterlings, Calicos, etc. the Bowers Vers-9S Silencer will cover them all with the appropriate adapters and the Bowers Group specializes in these types of mounts.
There are no super secret space age materials, monocore baffle stacks or anything special beyond the proven technology that Bowers has become known for in the NFA realm. Bowers Group has been around for close to 20 years and their customer service ranks among the best in the industry.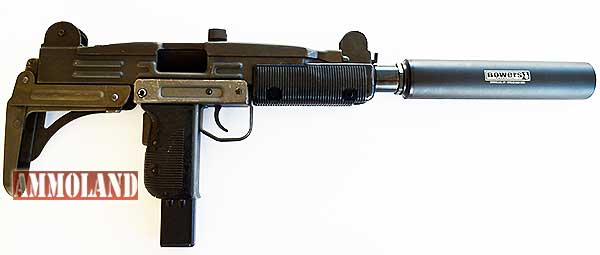 Bowers Vers-9S Silencer Resources:
---
---
Check out my video shooting the Israeli Uzi SMG fitted with the Bowers Vers-9S Silencer on full auto:
---
---
About Mike Searson
Mike Searson's career as a shooter began as a Marine Rifleman at age 17. He has worked in the firearms industry his entire adult life as a Gunsmith, Ballistician, Consultant, Salesman, Author and was first certified to teach firearms safety in 1989.
Mike has written over 2000 articles for a number of magazines, websites and newsletters including Blade, RECOIL, OFF-GRID, Tactical Officer, SWAT, Tactical World, Gun Digest, Examiner.com and the US Concealed Carry Association as well as AmmoLand Shooting Sports News.