By Major Van Harl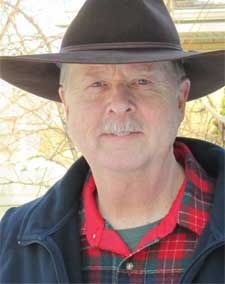 Wisconsin –-(Ammoland.com)- Just days before Christmas 2015, six Air Force law enforcement die in the wasted hell hole of Afghanistan.  Four Office of Special Investigation / OSI agents and two Security Forces Air Force "cops".
Nothing ever changes in Afghanistan going back to the days of Alexander the Great. Outsiders can force their way into Afghanistan, but they have never been able to stay. And what for, there is nothing in the God forsaken land that the US needs. We keep giving up the lives of our young soldiers with nothing to gain being a country that lives in the seventh century. To the Air Force families who have to suffer this horrible loss during what is suppose to be the most special and happy time of the year for Americans I am truly so-sorry. We buried another Air Force cop today.
Major Van Harl USAF Ret. 
We Buried An Air Force Cop Today
We buried an Air Force Cop today.
It wasn't supposed to be that way.
They were supposed to defend, from behind the wire.
Not searching for remains, in a Humvee pyre.
Yes, they are base defenders trained to fight.
Lock and load the enemy is in our sight.
They have no artillery to call in for support.
An IED goes off, mission abort.
We were training in the 80s to go beyond the wire.
The Army cried foul, that mission expired.
We were in their rice bowl, taking their space.
By God their MPs, would guard our Air Base.
Now we are burying an Air Force Cop today.
He was riding in that suspect Humvee, leading the way.
Cops to the front, cops to the rear.
Cops stand to, the danger is near.
Air Force cops always rise to the call.
Intercept the enemy, stop them all.
But if they must take the fight to the enemy on land
Then by God, give them the tools to make the proper stand.
Don't send them out in a vehicle never designed for a fight
We had a developing armored vehicle, once in our sight.
It was going to have a 30MM chain-gun on its back
But instead we use fiberglass for protection during attack.
Winston Churchill got it right back in WWII
Air grounds-men in combat have much more to do.
All airmen on base must be prepared to fight.
Praise the Lord, pass the ammo, the enemy comes tonight.
Every Airman must have an M16 by their side.
Every Airman, a rifleman, base defense they provide.
They stop turning a wrench or pumping jet fuel
A .50 cal or a 60 their defending tool.
And not just from a fighting position, shooting down range.
Death to the enemy, these air grounds-men arrange.
They have to be ready to defend their unit's assets.
Air grounds-men, those combat skills, you must never forget.
Turn off your computer when the mortar rounds fall.
We need every Airman, to the perimeter wall.
The enemy is coming with nothing to lose.
Pick a target, squeeze your trigger, you or him, choose.
We buried an Air Force Cop today.
Get use to it, we will loose some, its normal they say.
I am sorry I don't buy it, for these, air-infantry arriving on wings.
Better weapons, training, and support, our Air Staff must bring.
As the enemy attacks, every Airman a defensive stand
I want to see maintenance troops, with tool box and M-16 in hand.
I want to see the SOF, in the tower, with a rifle on her back.
The cooks, the medics and the engineers ready for the attack.
We don't want to bury another Cop some day.
Stop the bad guys first, make the enemies pay.
Combat support for these air grounds-men.
When they go on patrol, provide them A-10s.
Sadly we bury this Air Force cop today.
For the family I am so sorry, God our friend is on the way
An air grounds-man who made his final stand
Lord we send him, into your loving hands.
We buried another veteran today.
It seems all my life it happens that way.
This one a young cop, in the prime of his life.
Rest well defender, you gave all, in your last fight.
We buried an Air Force cop today…
About Major Van Harl USAF Ret.:Major Van E. Harl USAF Ret., a career Police Officer in the U.S. Air Force was born in Burlington, Iowa, USA, in 1955. He was the Deputy Chief of police at two Air Force Bases and the Commander of Law Enforcement Operations at another. He is a graduate of the U.S. Army Infantry School.  A retired Colorado Ranger and currently is an Auxiliary Police Officer with the Cudahy PD in Milwaukee County, WI.  His efforts now are directed at church campus safely and security training.  He believes "evil hates organization."  [email protected]