Breaking out the Big Guns? New Plano 1812 Magnum Field/Ammo Box Bears Boxes of Big-Bore Bullets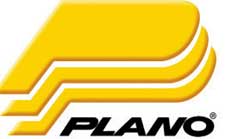 Plano, IL -(AmmoLand.com)- Hunters and shooters the world over have leaned on Plano's venerable 1312, 1712 and 1612 Field/Ammo boxes for a decade.
These low-cost, molded-plastic ammo cans are durable, won't rust, and provide a practical and economical means of storing and transporting ammunition. And if the full story is to be told, their blue-collar versatility and low cost has made them a favorite vessel for all manner of shooting accessories… along with just about any other small items one could imagine.
New for 2016, Plano announces the addition of the 1812 Magnum Field/Ammo Box to their honest and hard-working line of Ammo Cans.
Forty-percent larger than Plano's Model 1612 Big .50 Cal. Can – previously the largest available – the new, amply-sized 1812 Magnum Can comes with two removable dividers that section out three equally-sized, cavernous compartments – super handy for separating rounds of different calibers or sizes. A removable, drop-in storage tray rides beneath the lid and over the can's main compartment for fast access to tools and accessories. Finally, a latched, quick-access storage compartment is molded right into the can's lid for immediate access to remaining small items and sundries.
As with all Plano Field/Ammo Boxes, the 1812 Magnum is dressed with stout, no-nonsense hardware. A brass bail latch secures the goods without fail, while a heavy-duty molded handle holds up to the weight generated by heaps of magnum rounds.
PLANO 1812 FIELD/AMMO BOX (MODEL 181206):
Magnum Size
Exterior Dimension: 17"Lx10.38"Wx13"H
Top Lift Out Tray
Two Internal Dividers
Top Quick Access Storage in Lid
Brass Bail Latch
Heavy Duty Handle
MSRP $24.99
When size matters, Plano's new 1812 Magnum Ammo/Field Box is ready-for-duty, and provides economical and workmanlike storage and transport for boxes of big-bore bullets… or, a whole lot of small ones.
Protect your ammunition. Protect your passion.
About Plano Fishing:
A tradition of excellence. Owning a Plano tackle box has become a heritage that has endured for more than half a century. In 1952, Plano introduced the first molded plastic tackle box. For the next fifty years, the Plano brand found its way into the hearts and hands of four generations. Today, there's a 4 in 5 chance that if you own a tackle box, it was made by Plano. There are many reasons why consumers choose Plano, including quality, durability and innovation, but our favorite is "It's what my dad always used."
For more information, visit: www.planomolding.com/fishing.
About Plano Hunting:
Innovation and quality are the traits that have become associated with the Plano brand. Thousands of hunters and shooters have come to trust Plano for the storage of their firearms, bows and hunting accessories. Since 1952 Plano has been supplying outdoor enthusiast with storage solutions that allow them to make the most of the time they have outdoors.
For more information, visit: www.planomolding.com/hunting.