By Mike Searson
Heizer Defense Pocket Pistol (Hand Cannon) Review.
Click here to Jump and see Heizer Pistol Videos.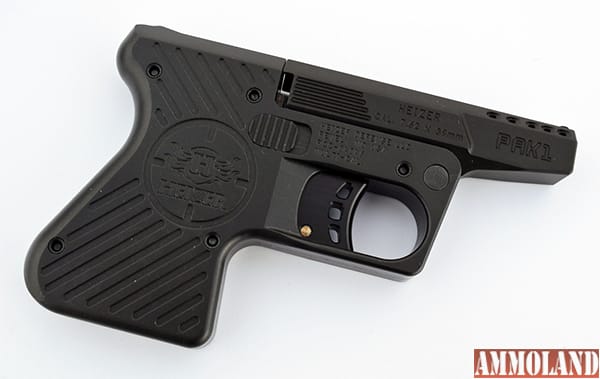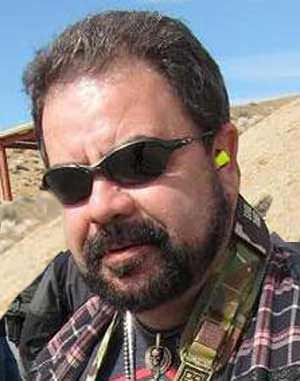 United States -(AmmoLand.com)- The small and flat design of the Heizer Defense Pocket Pistol has been compared to that of a smart phone and aids in concealment via pocket carry. Its design is inherently snag free with recessed ambidextrous operating latches which prevent hanging up on the shooter's clothing.
At first glance it reminded us of one of the famed OSS Liberators of World War II. These were single-shot mass produced pistols that were dropped to the French Resistance. The rationale was that a freedom fighter could hide one in his pocket, cap a Nazi, take his weapon and carry on the fight with a proper rifle or submachine gun.
Heizer Defense's (www.heizerdefense.com) pistol differs in a few ways, notably construction. Where the Liberator was a mass produced sheet metal construct, the Heizer is machined from USA-made aerospace grade stainless steel and finished in black Isonite.
Operation is completely different as well and Heizer offers another new take on an old design by way of a trigger module on roller bearings for a rather smooth squeeze.
Lastly the calibers are completely different. The Liberator was a single shot of 45 ACP whereas Heizer offers three calibers at this time:
45 Colt/410 Shotgun (PS1)
7.62 X 39 (PAK1)
5.56 NATO (PAR1)
Heizer Defense Pocket Pistol The Good
This little pistol is extremely well-made by a company with over 50 years in Aerospace design and development.
The ability to change calibers is a plus. We see this as a system and hope that Heizer offers other barrels in the future for different calibers.
Most of all, the PAK and PAR variants are just fun to shoot and are more accurate than you would think. The ported barrels may play a role in this, too.
Heizer Defense Pocket Pistol The Bad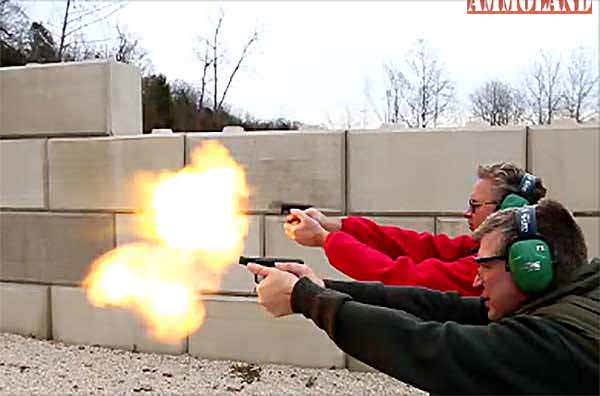 It's a single shot and the short barrel does not really deliver the desired impact of the rifle rounds.
Our past as a ballistician makes us cringe at the unburned powder turning into a fireball at the muzzle, but our inner child who likes to blow things up secretly snickers and says "Cool!".
The PAK-1 variant will not fire steel cased ammunition, brass cases only. It may be the primers are too hard in the Tula, Wolf and various other types of Milsurp ammo, but the only thing that worked for us was US made brass cased ammunition. While we did like shooting this Variant most of all, it did give us a headache after a few boxes went downrange.
Of the three calibers, the 45 Colt/410 was the only one we found unpleasant to shoot.
Heizer Defense Pocket Pistol The Reality
Recoil with the 410 shotshell felt the harshest of all. The two rifle calibers by comparison felt milder than we anticipated. We would dare to say they actually felt pleasant to shoot.
Shooting outdoors in daylight, we did not set any targets on fire, end up blinded by flash or suffer any of the other tall tales associated with a pistol such as this. As unpleasant as the 45/410 was to shoot, it did not break any bones in our hands or wrists, either.
For some shooters, every gun must have a purpose be it self-defense, concealed carry, hunting or target shooting.
This is definitely not intended to be a primary carry gun, but has its role in that of a backup or holdout piece due to its Concealability. It is not intended for everyone, but if you collect derringers or unusual guns it's worth picking up for the novelty and well built quality alone.
Plus it is straight up fun to shoot in the rifle calibers.
Specifications:
Caliber options: 5.56 NATO (PAR1) , 45 Colt/410 (PS1), 7.62×39 (PAK1)
Barrel length: 3 3/4" (PAR1 & PAK1), 3 1/4" (PS1)
Overall length: 6 5/32"
Height: 3 7/8"
Width: 3/4"
Weight: 23 5/8 oz
Trigger pull: 12-13 lbs
Rifle twist :1:5 (PAR1 & PAK1), 1:10 (PS1)
MSRP: $499
Heizer Defense Pocket Pistol Resources:
Heizer Defense Pocket Pistol Video:
About Mike Searson:
Mike Searson's career as a shooter began as a Marine Rifleman at age 17. He has worked in the firearms industry his entire adult life as a Gunsmith, Ballistician, Consultant, Salesman, Author and was first certified to teach firearms safety in 1989.
Mike has written over 2000 articles for a number of magazines, websites and newsletters including Blade, RECOIL, OFF-GRID, Tactical Officer, SWAT, Tactical World, Gun Digest, Examiner.com and the US Concealed Carry Association as well as AmmoLand Shooting Sports News.