United States -(AmmoLand.com)- When it comes to hunting and long-range target shooting pellets, airgunners are often faced with the dilemma of choosing between shooting at long ranges or accuracy and downrange energy.
But with H&N Sport's new Sniper Magnum pellets, a compromise is no longer necessary.
What allows the Sniper Magnum to be effective at long ranges is its unique barrel-shaped design. This special elongated shape not only reduces drag for an exceptionally flat trajectory and high velocities, but it also allows H&N to maximize the pellets' weight in order to provide outstanding downrange energy.
The Sniper Magnum also provides shooters with incredibly tight shot groups, which is achieved by H&N's in-house-made dies, rigid quality control and the use of a special match alloy.
Like all pellets from H&N Sport, Sniper Magnum Pellets go through H&N's proprietary surface treatment that not only cleans the pellets from manufacturing residues, but also slows oxidation and reduces lead abrasion – ensuring clean shots with little lead fouling that is both good for the airgun and more safe to handle.
The Sniper Magnum is available in .177 and .22 calibers, and is the perfect pellet for long-range medium game and bird game hunting.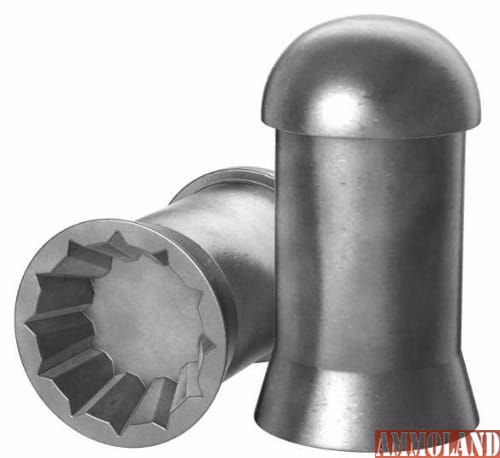 Caliber

Weight

Recommended 

Min. Muzzle Energy

Optimal Distance

Pellets Per Tin

MSRP

.177

15 gr
12 ft.lbs
100 meters
300
$9.99
.22
18 gr
18.5 ft.lbs
100 meters
250
$11.99
About H&N Sport:
Founded in 1825, H&N Sport produces the world's most renowned airgun pellets with its exclusive state of the art in-house machinery and German engineering. By continuing the tradition of its founders, H&N Sport delivers products with outstanding and unmatched quality that shooters around the world have come to rely on and trust.
For more information visit: www.hn-sport.de.