By JJ Sutton, C.P.S., C.M.A.S.
Orion Design Group Camouflage, you will have to work to find it and they are not main stream (yet) but they are one to watch and you heard it here first.

USA -(Ammoland.com)- From the Battlefield to Outdoor Sports Enthusiasts, making the next best Camouflage is a big deal. It could save lives by giving combat soldiers the next level of advantages.
Let's check out what goes into making a great new cutting edge camouflage.
Some patterns are a simple mix of layers and colors. Others are renditions mimicking an environment to maximize its cloaking ability based on what the eye is expected to see. Still few patterns move beyond single purpose uses, many are defeated at different ranges, many are most definitely the wrong pattern outside their intended and designed for environments.
I caught up with Kelsy Gonzales, CEO, Orion Design Group (ODG) ( odg-usa.com ) to get the scoop on what a new, cutting edge, up and coming Camouflage Design Company goes through when they are designing the next best thing in concealment.
Orion Design Group is one of those small companies you just have to watch and see what they do next, it always makes you smile and nod your head. Besides, product designers and manufactures are starting to take note at what they are doing and the superior patterns they are bringing to the table. So Ammoland Readers, you are getting the scoop on the newest advances in camo.
Let's get some answers from Orion Design Group. First of all, it sounds like they poured themselves into really studying the problem before doing something about it. Besides being life long hunters with over 60yrs combined experience wearing various camouflage and never being completely satisfied with it, they drew from their experiences on the battlefield as well. The Co-Founders are Former Marines with combat experience. Kelsy also has years of experience in the woods as a professional Big Game Guide literally having stalked Man and Beast between his military service and current careers. The final straw came from purchasing the latest cutting edge "pattern" and wearing it in the field for the next 2 years for a total of over 500 days. Repeatedly it let him and his co-founder down. Under the stars every morning as they left basecamp they would have the constellation Orion greet them in the southern sky and follow them until daybreak as they readied themselves for the hunt. In 2009 they got serious and started researching the history of camouflage and laying down ideas for the better way.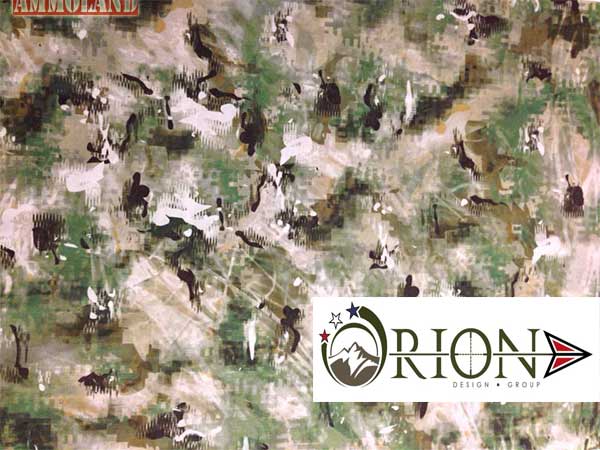 In 2010 the Orion Design Group flagship pattern – Lupus (Wolf) was born along with 15 other patterns. They wanted to serve their brothers & sisters in arms still fighting abroad and meet the needs of hunters. Gear, Clothing, and the right Teaming Agreements have been a long time coming and they never sacrificed quality or making agreements with companies whose gear they themselves would not use. Its one of the reasons they are still small and you might not have seen the great stuff about to burst on to the market from them and their partners.
They quickly met some challenges. Up until the latter parts of WWI, uniformed camouflage was not adopted on a large scale. Furthermore, up until the early 90's no significant change or technological advances occurred in the realm of concealment. Orion Design Group (ODG) patterns started out so advanced that initially it was hard finding a way for them to be printed on fabric. ODG designs use a more expensive ink jet printing process when nearly every other company is using a stagnant wet roll printing process. To get technical about it they where creating patterns in a CMYK file type while the industry was stuck designing in RGB. The benefit to this CMYK format was that they use almost double the layering & colors of traditional patterns. Multi-Cam, Mossy Oak, etc. use at most 5 layers and 7 colors. ODG's patterns use a minimum of 7 layers and 12 colors which means their patterns have more depth and better performance. Furthermore, ODG is working with textile suppliers on ways to address thermal and NIR( Near Infrared ) / SWIR (Short Wave Infrared) performance as well. Addressing IR isn't just a military issue, since in nature ungulates see in the IR spectrum as well.
ODG is the first to address this and there is a lot of proprietary stuff going on here but rest assured you will hear of it soon enough.
The history of camouflage has been an essential driving force in meeting the challenges ODG is facing. Kelsy tells me they looked at nearly everything mankind developed or used in order to try and conceal ourselves from something else. Multi-Cam being a great example of a jump forward in technology. Multi-Cam lead to the ACU pattern and the ground troops wearing it. Kelsy believes however, ACU failed and possibly lead to or contributed to the death of service members. DoD is a slow moving machine when it comes to uniform change. It took nearly 14yrs for the US Army to adopt Multi-Cam as a standard only for it to be obsolete at the time of change.
Kelsy & co-founder, Former Marines have the experience of wearing the wrong camouflage, in the wrong environment. In training and combat they wore woodland patterns while their environment called for dessert or other patterns to best serve them – nothing like standing out in vehicles and uniforms.
Bridging the Camo Gap
Enter something new, Orion Design Group ( odg-usa.com ) calls it Pattern Fusion Technology (PFT). Throughout their testing and historical research it kept telling them that there was no one design that could work everywhere. Each design had a strength and weakness. Realtree is an example of a true mimicry pattern with nearly a photographic rendition of a specific environment and mind you, it works very well in that environment. Outside that it's value diminishes rapidly. Kelsy says it was plain to see when guiding hunters from back east into the Rocky Mountains of WY, CO, MT, & ID. Traditional patterns (Multi-Cam / Woodland) work well at distance but perform poorly or outright fail at close-range where the digital patterns work well at close-range but perform or fail from longer ranges. Their testing & research re-enforced the theory that mixed media was the best design approach even if it was more costly initially.
The biggest challenges for Orion Design Group still remains their digital ink jet printing technology. It is far superior to wet roll printing but it remains difficult to translate onto some substrates and remains slightly more expensive. Add in the fact that many companies they work with have no experience with the technology ODG is bringing to bear. An example of this was the US Army's Camouflage Improvement Program. Out of 6 companies selected in round one, Orion Design Group was the only company using digital printing and after the second round of selection they were knocked out because it was something the US Army had no experience with.
Things to Watch for from Orion Design Group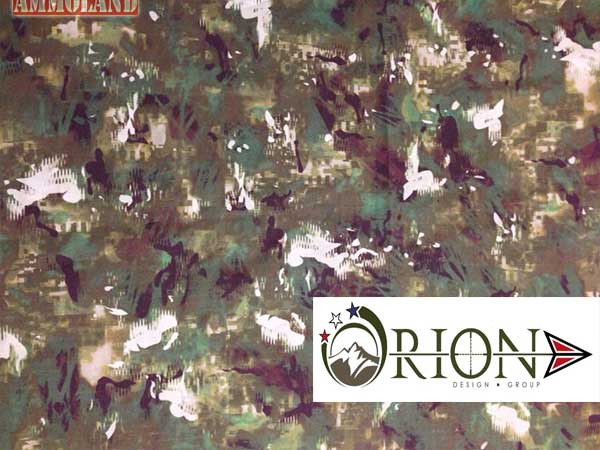 The Lupus (Wolf) pattern was the flagship pattern that can already be seen making its mark in key places throughout the industry (Ruger, Mystery Ranch, Hill People Gear, Legion Firearms, Beyond Clothing Apparel, Wyoming Gear Builders, VDC Armory, LLC etc.). It is their true Transitional that works in a number of environs. Lets have a drum roll for the Ursus (Bear) and the Vipera (Snake) patterns that they are calling their plank holder patterns and are being released on clothing and other substrates this year. Then hang on and wait for the Corvus (Raven – night pattern), two snow patterns (Panthera & Vulpes) to also arrive later this year. Then look for a Blaze Orange pattern and 6 other hunting specific patterns that do not yet have release dates.
Aside from another leap in technology there probably wont be a better pattern on the market soon other than Orion Design Group's. Minus electric powered fabrics that allow for color and tone changes given specific environments there just isn't anything else.  That being said ODG has "Something" in the works that could allow for field adjustments while not using electric power. They wont give up the goods but suffice to say Cabela's tried to accomplish this using thermo chromic dyes but missed the mark he says with a smile.
Orion Design Group Camo – Closing
Other than the actual pattern, print or paint job of any camouflage Orion Design Group reminds us that the technicality and performance of your apparel choices is extremely important in the field as well. This is why they are teaming only with manufacturers that make high-end apparel and gear (quality counts in the extreme). All of their products to-date are Made in the U.S.A. – no other hunting apparel manufacturer can stand on that claim. You want the absolute best choice in camouflage? I say get some gear in the Lupus pattern from a vendor that Orion Design Group is working with.
You will have to work to find it and they are not main stream (yet) but they are one to watch and you heard it here first as an Ammoland Shooting Sports News reader!
Orion Camo Vendors:
Wyoming Gear Builders : https://www.facebook.com/Wyominggearbuilders/
About JJ Sutton, C.P.S., C.M.A.S. :
A Native Colorado resident & life time Hunter. JJ served 7yrs in the US Army during the 90s and logged 12 months down range during hostilities in the Balkins. Mostly work and some play he as traveled/visited 20+ countries. He has served in the Private Security Field for more than 15yrs., as a Certified Protection Specialist and Certified Master Anti-Terrorism Specialist, including the 2002 Winter Olympics, Presidential Security Detail Member with the President & First Family of Haiti, Int'l Celebrities and personalities related to his business in Aspen, CO. Later Security Services throughout Colorado & Caribbean, Firearms Training, Consulting and now overseeing custom design & builds of the AR15s & AR10s put out by VDC Armory, LLC. His current pet project includes a new website promoting the Modern Sporting Rifle like it truly is intended to be with ARHunters.com & social media by the same name.