by Major Van Harl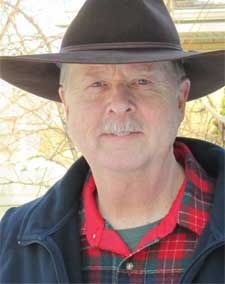 United States -(AmmoLand.com)- I once worked for a Texas police department and was assigned to the Crime Scene Investigation (CSI) unit.
One time in a sixty day period, I worked twenty six dead body scenes. There were a couple of motor vehicle deaths, a couple of natural causes deaths, a suspicious death that later was labeled a homicide, but the rest of the deaths were suicides.
A gunshot was the primary way that people killed themselves. Usually to the head and in some cases when it was a women killing herself it tended to be a gunshot to the heart.
My first two suicides happened when I was a young lieutenant police officer in the Air Force. On these two occasions, civilians drove onto areas of March Air Force Base in Riverside, California that were open to the public. They parked their cars in secluded areas and stuck firearms into their mouths and pulled the trigger. In both cases they had borrowed someone else's vehicle to kill themselves in, leaving a bio-hazard mess no one wanted to clean up in order to retain the use of their car.
This borrowing of someone else's vehicle to utilize as an enclosed space to contain the effects of a firearm initiated death continued to be a theme throughout my law enforcement career, even to this day.
I have known at least four people in my life who committed suicide. One of them was a janitor at the Texas police department. I remember him coming into my office right after I had gotten back from a suicide by shotgun to the head inside a borrowed car. I was complaining about the dead person using his mother's vehicle to kill himself in. Little did I know that months later I would respond to a secluded road where the janitor had killed himself. He did in fact borrow his mother's car, but he got out of the vehicle first before he put the shotgun into his mouth.
I always wondered if he did that because of our conversation about suicidal people using friends or family borrowed vehicles to kill themselves in.
Lee Child, the author of the Jack Reacher series, deals with suicide in his latest book Make Me. In his book, he gives different percentages of success at killing yourself based on what method a person uses. I do not know where Child got his suicide statistics that he uses in the book. The one thing he tries to convey to his readers is suicide can be painful and very messy and not always provide the death the person is seeking.
In the plot of the book, people want to die. Perhaps for health reasons, both the breakdown of physical health and the breakdown of mental health. Guilt and pain can make people want to kill themselves just to make either stop. The problem in the book is the characters that wanted to die could not or would not kill themselves, so they paid another party to kill them for a contracted method and price.
A gunshot to the head is supposed to be the most successful way to kill you–until it fails to work.
I once was invited to visit the home of some people who shared my family surname. We were related seven or eight times removed. While sitting in the living room talking to a group of older adults, a man in his early forties came in the room. I immediately assumed the man had special needs mental health problems. He disturbed the conversation flow and appeared to annoy everyone in the room. After he left I was advised he had put a handgun to his head years ago and his current state was because he had survived the gunshot wound.
In all cultures, all races, and all walks of life there are people who want to die. Many cultures have traditions that prohibit the taking of your own life. I remember, as a child living in Scotland, hearing the stories of people who attempted suicide and failed in their attempt. Only then, to have the Crown Prosecutor in the British legal system, charge and convict them for violating the law against suicide.
Sadly a gunshot directly to the head is one of the most successful ways to kill yourself. Unfortunately the firearm gets the lion share of the negative press in a suicide by handgun, than the person who pulls the trigger on themselves.
According to the Center for Disease Control and Prevention, in 2014 suicides accounted for 63% of all US gun deaths. I have known people who owned a gun store with a firing range on the premises where what appeared to be a normal person would come into shoot on the range. They would rent a handgun, proceed to the firing line and then stick the barrel in their mouth and pull the trigger. Taking their life and leaving the gun shop owner with the legal and physical mess to clean up after the fact.
They wanted to die, and through the power of TV and movies everyone knows what happens if you shoot yourself with a gun. Many of the western states have the highest rates of gun suicide, with Montana leading the way as the number one state for firearm induced killing of one's self. The suggestion is that guns are much easier to acquire out in the old west, so it is more expedient to kill yourself with a firearm.
That is probably correct, but it is the suicide that is the problem, not the tool used to accomplish the grim task.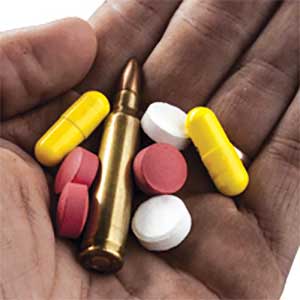 If it was legal for any citizen in any state to walk into a pharmacy and buy a package of suicide pills, this item could be a big hit. Pills that taken in the correct order will calm you down, put you to sleep, and finally stop your heart from ever beating again after you quietly and painlessly start the process of killing yourself. With the ability to easily obtain these over-the-counter pills there could be a major increase in death by a person's own hands in this country. The suicide death rate would go up, but firearms would stop being the primary tool of choice.
For whatever reason some people want to die, but many are afraid of screwing it up. What if they live? What if it really hurts and they don't die right away and have to suffer? What if they recover and have to suffer pain, both physical and mental?
Men are much more successful at killing themselves, but if you take the fear and terror of a violent gun death away and introduce the painless pharmacy pack of suicide pills, and lot more women will die.
Firearms are used in suicide because they successfully get the job done no matter how distasteful to the rest of society that act of personal destruction is. The extremely high rates of alcohol related vehicle accidents that lead to death are suspect to me. How many people used alcohol and a vehicle to kill themselves so the surviving family and friends can be left to believe it was just a sad accident and not suicide?
You live in the only nation in the world where its citizens have the constitutional right to own firearms. With that right there comes the responsibility not to criminally harm others or harm yourself with your firearm.
Guns are tools, but they can be very destructive tools, destructive to human tissue, to the human soul, and to those who survive after someone takes their life. You will never do away with firearms, not in a free society. You will also never do away with suicide in any society, free or otherwise.
Some people hurt and hurt so much that death is (they believe) their only option. Guns are just a handy tool for those who will only move on to some other means (if less effective) to eventually terminate their life should a firearm not be available. Life is precious, but we cannot always account for or understand some people's pain and their desperate attempts to make the pain stop. Sadly a firearm can in many cases make that pain stop.
The pain is the reason and cause for the suicide not the instrument used to facilitate the death.
---
We see you reading this. Do you feel lost lonely and unloved? Thinking of suicide? There are people who care and can help you.
Call 1-800-273-8255 or Visit : https://suicidepreventionlifeline.org/
---
About Major Van Harl USAF Ret.:
Major Van E. Harl USAF Ret., a career Police Officer in the U.S. Air Force was born in Burlington, Iowa, USA, in 1955. He was the Deputy Chief of police at two Air Force Bases and the Commander of Law Enforcement Operations at another. He is a graduate of the U.S. Army Infantry School. A retired Colorado Ranger and currently is an Auxiliary Police Officer with the Cudahy PD in Milwaukee County, WI. His efforts now are directed at church campus safely and security training. He believes "evil hates organization." [email protected]