By David Tong
Winchester Model 50 Shotgun Review.

USA –  -(Ammoland.com)- Winchester made many autoloading shotguns in the Twentieth-Century.
One of their saddest mistakes, in my view, was their turning down of John Browning's immortal Auto-5 recoil-operated design during its first decade, due to Browning's desire to actually be paid a royalty on each one built.
This was not accepted by Winchester management, and they paid a price for this decision with lasting effects to this day.
Winchester Model 50 Shotgun
The Winchester Model 50 Shotgun is an interesting artifact. Other than the aluminum alloy trigger guard housing, the piece is constructed of machined, forged-steel parts. No less than David "Carbine" Williams (of WWII M1 Carbine fame) was responsible for the operating system, that used a "floating chamber insert" very similar in both design and execution of the more famous Colt "Service Model Ace" or their Government Model .22 "Conversion Unit" that allowed inexpensive practice once upon a time.
The Winchester Model 50 Shotgun represents a transition of technology of sorts. Up to this point, other than the aforementioned Auto-5, all repeating shotguns from Winchester used a tilting bolt that locked into a receiver mortise in its inside-top surface. Think "Winchester Model 12." This is a very solid way to lock the bolt, but it is quite a bit more difficult to properly manufacture, compared to what is today's standard, a bolt that locks into a barrel extension.
The Winchester Model 50 Shotgun is a technological "half-step." In most recoil-operated arms, the bolt is delayed from rearward travel by the weight of the barrel that is affixed to it, and the barrel recoils a short distance with the locked bolt before the bolt's timing allows it to disconnect from the barrel on its way back in full recoil.
The Model 50 Shotgun instead uses its floating chamber insert as the locking abutment as well as the piece that moves rearward, leaving the barrel "fixed." As the bolt and insert move to the rear, a portion of the gases envelope the outside of the bottleneck-shaped insert that help "float" the assembly rearward via that gas pressure.
Being of fairly heavy construction due to recoil-operation, there are lots of critics who consider the design "too rear heavy," "too difficult and time consuming to clean," and "another sales failure."
In my experience, the shotgun performed brilliantly on pesky starlings last fall. These birds are quite aerobatic, fast, and change flying tactics when they figure out you are out to get them. The muzzle lightness actually, for me anyway, made it quite reactive and quite the tool for the job.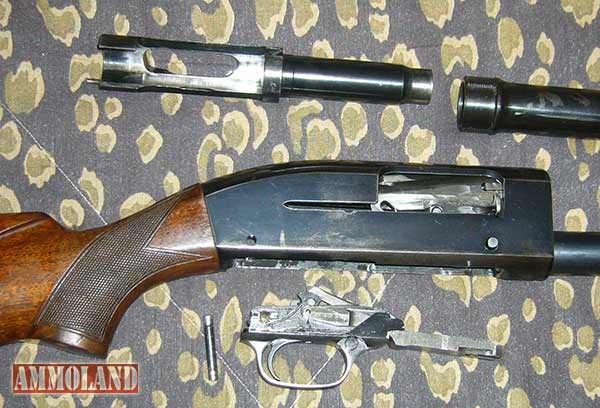 While the Winchester Model 50 Shotgun is somewhat more difficult to clean that a "normal" repeater, stripping it for this requires unthreading a fore-end cap, removing the fore-end, locking the action open, and removing the barrel (by turning it ninety-degrees counter-clockwise) and the chamber insert. Simply clean the interior of the barrel as normal, and both the outside (primarily) and inside of the insert. Brush the bolt-face and receiver interior. I used Slip 2000 725 non-toxic, water-based carbon cleaner and re-lubricated with their "EWL" full-synthetic oil. I didn't have any failures of cycling or feeding/extraction/ejection after nearly 350 rounds of shooting over a week-and-a-half of shooting. I suspect with the Poly Choke that was installed by a previous owner, that it will be equally deadly on the trap range.
In addition, the entire trigger group is retained by a single spring loaded pin. Push it out with a brass drift, and it opens up the entire receiver interior to inspection and cleaning, while it can be easily cleaned using spray lubricant and compressed air.
Finally, these shotguns were built from 1954-1959. There is a modicum of truth to it being a relatively slow seller, but that is also because it was truly a three-shot auto. The magazine is a machined tube limited in length to just two-round capacity, plus one up the spout. It is only a sporting upland or water-fowling piece, in other words. However, some 196,000 of them were sold, and Winchester never fully recovered from dissing Mr. Browning with its homespun autoloading designs.
One of the good things about the Winchester Model 50 Shotgun is that evidently spare barrels are relatively plentiful, do not require fitting to the receiver or chamber insert, and are relatively inexpensive.
Physically, I am resolutely "average" in size, and the drop at comb, trigger pull length, and drop at heel measurements are near perfect for my 5'10" frame. The Winchester Model 50 Shotgun and I got on perfectly well immediately, and I took it directly from the gunshop straight into the field without regrets.
I guess the sixty-some-year old Winchester Model 50 Shotgun and I can look forward to a long life together.
Winchester Model 50 Shotgun Resources:
Used Winchester Model 50 Shotguns and parts for sale : https://tiny.cc/taepby
Winchester Model 50 Shotgun Do Everything Manual : https://tiny.cc/1fepby