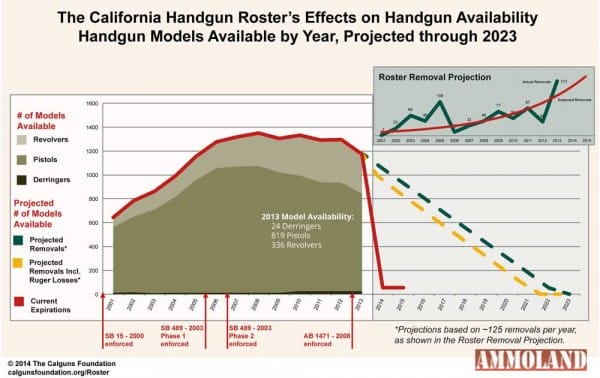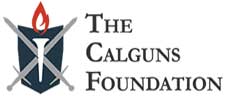 California – -(Ammoland.com)-There have been some really awesome handguns rolled out by manufacturers this year.
From the new generation Glocks to Springfield Armory's XD-S Series, there has been real innovation.
Unfortunately, as in years past, we will see none of these guns for sale in California. Our Second Amendment rights and market choices are being held hostage by anti-gun Attorney General Kamala Harris and her California Department of Justice, which implements California's "Not Unsafe" Handgun Roster
Unless a manufacturer pays a $200 fee, cuts through all of DOJ's regulatory red tape, and implements a non-existent technology (microstamping), perfectly safe and tested handguns "magically" become "unsafe" once they cross state lines.
Without a gun rights victory in our critically-important Second Amendment lawsuit Peña v. Lindley, DOJ will no doubt administratively restrict your access to constitutionally-protected safe, modern handguns and shrink the Roster into oblivion.
There was an attempt this year in the Legislature to repeal some of the most onerous parts of the roster by Assemblyman Devon Mathis (R-Tulare), but that bill fell on deaf ears.
This lawsuit is a must win. We won't see a reversal of these policies unless the courts do it!

For years now, DOJ has required handgun manufacturers to attest—under penalty of perjury—to the specifics of their entire supply chain in a bureaucratic move to force handguns out of the state….and out of your hands.
And if a manufacturer makes even a small improvement to a handgun for safety, reliability, or as a response to customer feedback, the DOJ kicks it off the Roster because it is a "new model."
Worse, thanks to California's "microstamping" requirement – a legal mandate to implement a non-existent technology – the de-listed handguns can never be re-listed on the Roster, even if they pass the State's rigorous safety tests.
But YOU can help us end the Roster roller coaster by supporting our lawsuit Peña v. Lindley today.
Peña v. Lindley is the ONLY Second Amendment challenge to California's unconstitutional handgun Roster laws AND microstamping requirements.
And if you ever want to buy new, popular handguns from a California retailer, our Peña v. Lindley case needs your support.
We are fully committed to eliminating California's unconstitutional handgun laws even if that means going to the U.S. Supreme Court.
Peña v. Lindley is up on appeal to the Ninth Circuit, with a hearing expected to be scheduled sometime this year.
But gun rights lawsuits are expensive.
Without your help, we simply can't win back your Second Amendment rights.
Please make a tax deductible donation to support Peña v. Lindley and other important gun rights lawsuits today.
Sincerely,

Richard Thomson
Grassroots Director
About The Calguns Foundation
The Calguns Foundation (www.calgunsfoundation.org) is a 501(c)3 non-profit organization which serves its members by providing Second Amendment-related education, strategic litigation and the defense of innocent California gun owners from improper or malicious prosecution. The Calguns Foundation seeks to inform government and protect the rights of individuals to acquire, own, and lawfully use firearms in California.