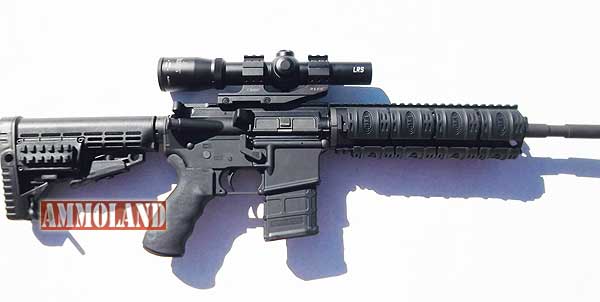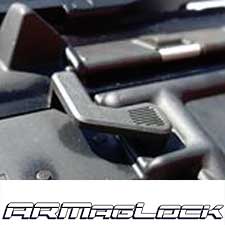 Winter Park, CO -(AmmoLand.com)- California Governor Jerry Brown enacted SB 880 and AB 1135 last week that places more restrictions on firearms, specifically "assault weapons" such as the AR-15 —and one company has a patented solution to get around the new laws.
Years before Governor Jerry Brown signed the "assault weapons" ban on rifles with "bullet buttons," among other California gun laws, the inventor of the ARMagLock had introduced a solution to the dilemma of detachable vs. fixed magazine firearms, which makes even the AR-15 California-compliant by converting it to fixed magazine, which is not considered an "assault weapon" by California laws.
For starters, the "bullet button" is simply a magazine release that the gun owner suppresses with a sharp or pointed object — often the tip of a bullet. Democrats argued that having such a release allows criminals to reload too quickly, and therefore banned it for law-abiding citizens. Brown signed the ban into law on July 1.
But ARMagLock has the patent (U.S. Patent No. 8,756,845) on a long standing solution which brings AR-15 owners into compliance with the laws, and has been selling the kit for over 3 years to New York residents in need of the product.
The biggest difference between the method of the new release versus the classic bullet button is that the new ARMagLock method literally requires the firearm action to be disassembled (upper and lower receiver separated) before the magazine can be released.
The solution sounds slow and cumbersome, but ARMagLock has perfected the design to make the operation so quick and simple, it rivals or is faster than the old bullet button kit.
To see live video of installation, operation and even live fire demonstrations just go to ARMagLock's Youtube channel.
Warm regards,
Courtney Harris
http://ARMagLock.com
About ARMagLock:
By installing an ARMagLock you no longer own a "detachable" magazine firearm. ARMagLock renders your MIL-SPEC AR-15 (and AR-10) a fixed magazine firearm while installed, exempting the rifle from registration. Existing New York and California laws state, if you posses a "detachable" magazine firearm, you own what's classified as an assault weapon. If you owned this weapon between January 1, 2001 and December 31, 2015 you MUST register it as an assault weapon before July 1, 2015.If you do not, it will be a criminal offense punishable by law! Locations where ARMagLock may be applicable: California, New York, New Jersey, Connecticut, Maryland, Illinois, Massachusetts, Hawaii, and many other counties, cities and municipalities. ARMagLock is a patented AR-15 fixed magazine solution.
For more information, please visit: www.ARMagLock.com.