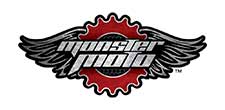 RUSTON, La. –-(Ammoland.com)- Monster Moto, America's premier powersports producer of off-road mini bikes and go-karts, is officially launching its powersports brand nationwide.
Monster Moto has been in stealth mode with its current product line for the past three years developing its sales and distribution channels. With its resounding success, Monster Moto is now launching the brand on a national scale. Monster Moto is wrapping up a year-long development program of its production process and is preparing to announce several new products and availability in dozens of familiar retailers nationwide this fall. Monster Moto made news last year after (then) Governor Bobby Jindal announced the company's relocation to Ruston, Louisiana. Monster Moto is proud to announce its brand new 100,000 square foot corporate headquarters and production facility is now operational.
"The child in all of us wants to experience the thrill of riding outdoors, and we are so proud to be part of that adventure for this generation," said Alexander J. Keechle, CEO of Monster Moto. "Kids and families have been making lasting memories on mini bikes and go-karts for decades, and we are excited to continue that tradition by assembling some of the best products right here in the United States. Our complete line of mini bikes and go-karts are tough and designed to provide years of fun for the whole family."
Monster Moto is currently working with a variety of key partners that are supporting the launch of the brand, showcased with custom patterns on many of the Monster Motor products. Among the first partners are Mossy Oak®, Realtree®, Muddy Girl®, and RCH Racing, while partnerships with several more top brands are already in development.
Like many motorcycle and powersports brands, Monster Moto sources individual parts from key partners around the world. By 2017, Monster Moto expects most of its assembly to be in the Ruston facility with the "Proudly assembled in the U.S.A." label affixed to most of its products. By moving the assembly process to Ruston, Monster Moto has been able to refine its assembly process to ensure an even higher level of quality and an overall superior product at an affordable price.
"Relocating our headquarters to Ruston has been one of the best decisions we've made as a company," Keechle added. "By bringing our assembly operations to the U.S., we are able to really take advantage of a highly skilled American workforce that is able to produce the best mini bikes and go-karts in the country."
Monster Moto products are available at www.monstermoto.com and in hundreds of major retail locations throughout the country.
For more information about the company and its products, visit Monster Moto online at www.monstermoto.com. All media inquiries should be directed to [email protected]
About Monster Moto
Monster Moto is a maker of high quality, affordable mini bikes and go-karts. By 2017, all of Monster Moto's products will be completely assembled in the United States at the company's 100,000 square foot production facility in Ruston, La. Founded in 2013, Monster Moto focuses on ensuring all of its mini bikes and go-karts are made with high quality parts and detailed attention to construction to help get kids outside to focus on the important things: enjoying the outdoors, exploring off-road, and making lasting memories with family and friends. Monster Moto stands behind its products with a 90 day warranty, and the company's customer service center is open seven days a week. Monster Moto also has a 100% spare parts inventory as well as 600 service centers throughout the country. To learn more about Monster Moto, visit www.monstermoto.com or contact [email protected]