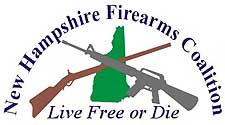 Milford, NH -(Ammoland.com)- As you may know, each election cycle the New Hampshire Firearms Coalition publishes a scorecard which uses report style letter grades.
Our grades are intended to help you, the law abiding New Hampshire firearms owners, to determine who stands up to support Second Amendment civil rights and who works against your civil right to be armed.  We cannot and will not advocate for or against specific candidates.
We carefully consider bill sponsorship, recorded roll call votes, public statements and responses to a comprehensive candidate questionnaire to make our grading determinations.  Then, after we have done all of our exhaustive research we release our scorecard. Once we release the scorecard, it is up to you the law abiding gun owner to decide who will earn your trust.
New Hampshire has the largest state legislature in America and it takes time to consider 800 plus candidates for 424 seats.  In past years, many folks have requested that we release our grades earlier.  We heard your requests and this year we are starting by releasing the grades for all incumbents seeking reelection to Federal offices.  Then, we will release grades for their challengers.  Next, we will release New Hampshire Governor and Executive Council and then, the candidates for the New Hampshire legislature.
So here are our grades for all incumbents seeking reelection to Federal offices:
US Senate – Kelly A. Ayotte (R) D- Senator Ayotte has:
Consistently refused to support filibusters to stop new federal gun control;
Voted to confirm anti-gun Loretta Lynch as US Attorney General;
Recently joined with Senator Collins of Maine to restrict your right to bear arms;
Finally, Senator Ayotte also meets the definition of a "promise breaker" because she broke all of the promises that she made in 2010 when she first ran for the US Senate.  Thus, the proper grade for Senator Ayotte is D- PB.
US Congress – District 1, Frank Guinta (R) A.  As a Congressman Frank Guinta has:
Consistently voted to uphold your constitutional right to bear arms;
Congressman Guinta has sponsored several bills that would:
1) Make your New Hampshire pistol / revolver license valid in the other 49 states;
2) Sponsored a bill that would allow the sale of any firearm across state lines helping licensed gun dealers in sales tax free New Hampshire;
3) Sponsored legislation to end the ban on concealed carry in US Military installations, (including recruiting centers);
4) Has vocally opposed the anti-gun UN Small Arms Treaty;
5) fought last years stealth move by the Obama Administration to ban common .223 caliber ammunition and then, after the Obama Administration backed down, he co-sponsored a bill to prevent another administration from attempting to ban ammunition;
6) Congressman Guinta has also co-sponsored the Hearing Protection Act which removes sound suppressors from the National Firearms Act.
7) And, most recently, he fought with the weak kneed leaders of his own party to prevent any new gun control from being voted on.
US Congress – District 2, Anne Kuster (D) F Congresswoman Kuster has received a failing grade because of the numerous letters that she has sent to NHFC Members boldly declaring her support for more and more restrictive Federal gun control.  We do not expect the tiger to change her stripes.
Here is what our grades mean:
A+    2nd Amendment leader, sponsors and promotes pro-gun legislation.
A     Solid 2nd Amendment supporter, votes with NHFC, Inc. position 100%.
B     Basically pro-2nd Amendment, but lacks understanding or solid conviction.
C     Not considered a good grade. Has voted, or probably would vote against NHFC, Inc. position.
D     Expected to always vote against gun owners' civil rights.
F     Sponsors or promotes legislation hostile to 2nd Amendment civil rights.
?     Failed to respond.
RS     Indicates a deliberate refusal to accept or respond to survey. Indicates open hostility to the Second Amendment.
PB     Has broken written promises concerning actions on Second Amendment Issues.
*S     After an "A" or "A-", grade is solely based on survey, without a voting record to back it up.
I hope these grades are helpful.  Please watch your email for additional grades and your postal mail for a final scorecard on all candidates.
Thanks for your support.
In Liberty,

Scott A. Krauss
President – NHFC
About New Hampshire Firearms Coalition:
The New Hampshire Firearms Coalition is New Hampshire's only No Compromise Gun Rights Organization. While many so-called "gun rights groups" work to curry favor with politicians and the media, NHFC is working aggressively to hold politicians accountable and to put a stop to gun control.
For more information, visit: www.nhfc-ontarget.org.