By Mike Searson
Rugged Suppressors 7.62 Surge, review and test.

United States -(AmmoLand.com)- There is no question about it; rifle silencers are the top dogs of the suppressor world when it comes to price and performance.
For this reason, shooters are constantly looking to maximize their value when looking for a new silencer. Today's shooters want a can that is easy to maintain, versatile enough to use on more than one host firearm and above all else: quiet.
Rugged Suppressors delivers all of that with the Rugged Suppressors 7.62 Surge.
The trend from manufacturers has been to offer bigger silencers suitable for larger calibers. Most of the time this works well and a good 308 suppressor will serve well on rifles chambered in 5.56, 5.7, 300 Blackout, etc.
When discussing this with our friends at Silencershop.com we asked if anyone made a silencer suitable for use on large rifle calibers like 308 or 300 Winchester Magnum, but would not be out of place on a 300 Blackout rifle or pistol, particularly for the subsonic load.
They told us about the 7.62 Surge that can be converted from a full length 9" rifle silencer down to a 7.5" silencer by removing the end cap, taking out two baffles and a short section of tube and replacing the end cap. Furthermore the end caps can be switched out for 5.56 instead of 7.62. This gives you 2 short suppressors and 2 full sized ones for the price of one.
Why a short firearm suppressor?
If you are just a shooter who rolls out to the range with your rifle in a carrying case, you probably don't think much about the weight of your rifle with a silencer beyond the hike to and from your vehicle. On the other hand if you are carrying it all day and having to walk, patrol, etc. Shaving a few inches and a few ounces can seem like a Godsend.
For some people it is a cool option to run a shorter can, others it is a necessity. How you run it is up to you.
We tend to prefer shorter cans on handguns, but longer ones on rifles, if for no other reason than the decreased sound signature with a longer rifle silencer.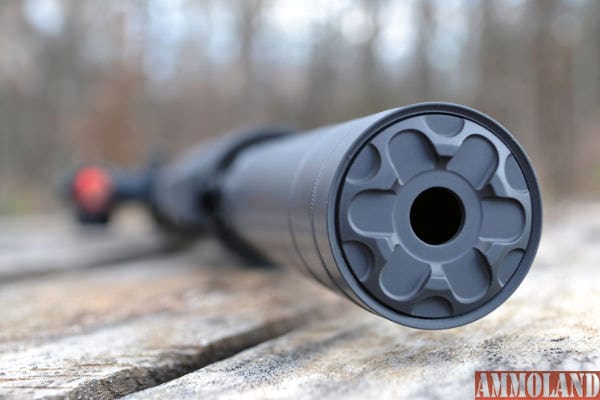 Rugged Suppressors 7.62 Surge Range Time
The test silencer came in from Silencer Shop with no mounts. They wanted to send some along, but we opted for direct thread models to test a theory we had about mounting systems.
We noticed when testing pistol silencers that are direct thread that the silencers would consistently line up almost every time we attached the can to the host.
It is easy to follow the line of the manufacturer's stamp with your eyes and see that it indexed within a millimeter of where it had come from previous. This means consistency, which is the biggest portion of accuracy.
On rifle cans in our collection, with QD mounts, we did not always see this and always had to readjust our zero, even slightly when moving to a new host. So in order to test our theory, we chose direct threads. At the range we noticed a slight shift in zero with subsonic 300 Blackout out of our Radical Arms pistol. Although we think the ammo may have been the culprit here.
Switching back to supersonic loads was right on target. We moved the silencer over to our DPMS LR308 and our EO Tech shot the same pattern we had shot a month or so ago with no silencer.
This does not mean we are advocating for direct thread-only cans. While we do like them on dedicated setups where the can stays attached all the time, we like a bit of versatility in higher end offerings.
Rugged Suppressors is way ahead on that note, too. Their proprietary mount incorporates an over threaded section similar to a ratchet tooth mount reinforced with a compression lock.
Most QD mounts have been following a similar thought process about what we feel is the main reason for silencer ownership: Sound reduction.
A properly built mount actually takes the brunt of the blast before it enters the actual silencer. Some shooters will refer to brakes built in this manner as "Sacrificial Baffles" in that they will contribute to less wear and tear on the silencer, but we find they aid in overall sound reduction or at least in the perception of such.
The Rugged Suppressors Surge is full auto rated up to 300 Winchester Magnum and can be taken down a few inches and 4 ounces for a shorter silencer that still does a decent job with reducing noise and recoil.
It meters at about 134 Decibels and retail price is under $1000.
For more information check out their profile on SilencerShop.com located here.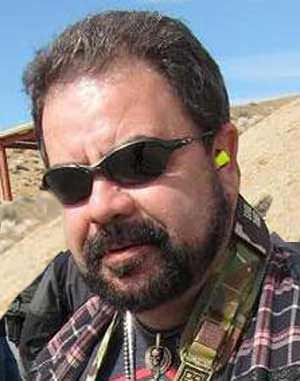 About Mike Searson:
Mike Searson's career as a shooter began as a Marine Rifleman at age 17. He has worked in the firearms industry his entire adult life as a Gunsmith, Ballistician, Consultant, Salesman, Author and was first certified to teach firearms safety in 1989.
Mike has written over 2000 articles for a number of magazines, websites and newsletters including Blade, RECOIL, OFF-GRID, Tactical Officer, SWAT, Tactical World, Gun Digest, Examiner.com and the US Concealed Carry Association as well as AmmoLand Shooting Sports News.