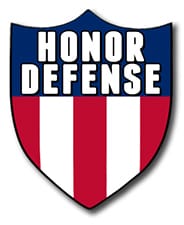 USA –-(Ammoland.com)- Honor Defense is supporting the DEA Survivors Benefit Fund though the donation of a new, All-American Made, Honor Guard Sub-Compact semi-automatic handgun chambered in 9MM. The Honor Guard Sub-Compact will be auctioned online through GunBroker.com, with all proceeds going to the DEA Survivors Benefit Fund.
"The families of DEA Agents across the world appreciate the generosity of Honor Defense. The fund would not exist without donors and partners like Honor Defense. Currently, the Benefit Fund pays line of duty death and continuing education benefits to the families of DEA Agents and Task Force Officers killed in the line of duty," stated Chairman Richard Crock.

"Agents of the Drug Enforcement Administration are on the front lines of our war against illegal drugs and the violent criminals who make and sell them," said Gary Ramey, president of Honor Defense. "The Survivors Benefit Fund has contributed more than $6 million in line of duty death and educational benefits to the families of DEA agents slain in the line of duty. We are honored and humbled to do our part to help this very important charity."
A non-profit charitable organization, the DEA Survivors Benefit Fund was founded in 1997. Within 24 hours of each line of duty death, a check for $20,000, plus an additional $10,000 for each dependent under 21, is delivered to the DEA agent's family to help them with funeral and family transportation expenses, housing accommodations, and the dozens of other expenses that occur with such a tragedy.
For more information on this important charity, please go to –
www.survivorsbenefitfund.org/.
"While Honor Defense is a relatively new handgun manufacturer, this is just the start of our support of law enforcement agencies across the nation," Ramey added. "We are proud to help those who sacrifice so much, for so many."
To learn more about Honor Defense, please visit www.honordefense.com.