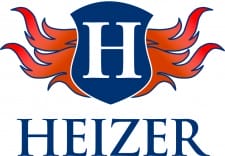 Pevely, MO -(AmmoLand.com)- Heizer Defense was recently visited by Senator Roy Blunt of Missouri, a Republican Senator with an A rating from the NRA. Joining Senator Blunt was a number of state and county executives, as well as members of state and local Law Enforcement.
Senator Blunt's campaign message of "More Jobs, Less Government" fits handedly with the Heizers' own political beliefs.
During his visit, Senator Blunt toured the Heizer Aerospace facility where large structural components for commercial and military aircraft are manufactured. The Senator also toured Heizer Defense, known for their innovative line of powerful pocket pistols.
Pictured below, Tom Heizer, a Heizer Defense Principal, shows Senator Blunt Heizer's first revolutionary semi-automatic pistol, the PKO-45. The PKO-45, or Pocket 45, is the slimmest semi-auto .45 ACP on the market at just 0.8″ wide and approximately 25 ounces, making it the ideal pistol for home defense and concealed carry.
The Heizers greatly appreciate being a part of the Senator's campaign stops, where he has been very busy visiting manufacturing locations throughout the state of Missouri. The Heizers are proud to offer their full support for Senator Blunt in the upcoming election.
For more information on Heizer Defense, visit http://heizerdefense.com.
About Heizer Defense:
Heizer Defense is a state-of-the-art, high technology Firearm Company based in Pevely, Missouri, a suburb of St. Louis. Heizer Defense is an affiliated company of Heizer Aerospace. Founded in 1962, it manufactures fracture critical components for aerospace companies, NASA and the military. Heizer Defense Engineers apply the same military technology to create high quality firearms.
For additional information, visit: www.heizerdefense.com Or visit us on Facebook.