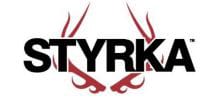 Eagan, MN -(AmmoLand.com)- Serious hunters rely on quality Styrka binoculars and spotting scopes to improve their odds afield.
But as with any piece of gear, a few tips can make your glassing experience even better, and help you bring home that trophy of a lifetime.
Eye Cups First. If you wear eye glasses, twist the binocular's eye cups all the way into the down position. This allows you to get as close to the rear lenses as needed to provide a full field of view. No glasses? Adjust eye cups towards your face for best field of view and eye comfort. All Styrka Binoculars come standard with adjustable eye cups.
Set Your Diopter. Visually speaking, it's rare that both eyes have the same strength–which is why all Styrka binoculars have a diopter, that movable ring around the base of the right eyepiece. Setting your diopter brings both eyes into focus at the same time for more effective glassing.
First, choose an object approximately 10 yards away. Close your right, diopter eye. Looking through the left barrel of the binocular, focus your left eye on the object and adjust the center focusing knob until the object is clear and sharp. Then, close your left eye, open your right eye, and use the diopter ring to bring the object into focus. Now both eyes should see the same object with equal clarity. Periodically check that your diopter is set correctly as our eyes change over time.
Take Your Time. When glassing for game, hurrying only increases your chances of missing animals. So, instead of sweeping over wide distances, pick a small segment of the landscape and glass back and forth slowly, pausing for anything that looks out of place. Then, move onto the next segment.
Color Counts. Movement is easiest to spot. But that deer or elk might be standing in place feeding or be bedded down under that tree. Look for color variations that may signal a game animal. And you'll be able to spot such variations because all Styrka lens surfaces are coated multiple times, utilizing proprietary anti-reflective coatings, for maximum brightness and optimal color, sharpness and image contrast.
Binos First. Use your Styrka binoculars to first scan the area. The wider field of view is a big help for spotting game, especially in groups-the spotting scope helps you decide if your trophy is there.
Steady Does It! With the higher magnifications of spotting scopes (15 to 45 on the Styrka S7 compact, 20 to 60 on the full sized S7 model), any movement causes the images to jump and shake. Use a solid rest or, better yet, attach your S7 to a tripod using the scope's tripod mount. The mount also rotates, allowing the eyepiece to be set in optimal viewing positions.
Don't Fear the Elements. Your S7 Spotting Scope is ready for most any weather. It is 100-percent waterproof, and coated in tough, rubber armor. The sunshade reduces glare and shields the objective (front) lens from rain and snow, too.
Get There Early, Stay Late. Game species tend to be more active at sunrise and sunset. That's one reason why Styrka S7 Spotting Scopes employ advanced, extra-low dispersion (ED) optical glass that provides razor-sharp images and superb color correction, while dramatically increasing clarity during low-light situations.
To learn more, please visit www.styrkastrong.com.
About Styrka:
Launched in 2015, Styrka offers a dynamic line up of hunting scopes, binoculars, red dots and spotting scopes. The Styrka philosophy is simple but non-negotiable: make high quality optics at affordable prices; always tell your customers the truth about what optics can and can't do; and, stand behind your products 100-percent, forever. Styrka Pride. Styrka Strong.
To learn more about Styrka Optics, please visit https://styrkastrong.com/.