Mansfield, TX -(AmmoLand.com)- Durable yet lightweight, the Sightmark Core HX series offers premium optic quality designed for a wide range of shooting and hunting applications.
Designed specifically with hunters in mind, the Core HX Series delivers the unrelenting, rugged IP67 waterproof, dustproof, shockproof and fogproof reliability you need in extreme, wild environments, uncompromising build quality and a razor sharp field of view perfectly suited for 24/7 pursuits.
All Core HX Riflescopes boast resettable, capped turrets with ¼-MOA windage and elevation adjustability and advanced, multi-coated, scratch-resistant, anti-reflective glass hermetically sealed in a 1-in. single-piece, 6061-T6 aircraft-grade aluminum tube complete with a durable, hard-anodized, matte black finish. As your fall hunting plans come together, consider these phenomenal Sightmark Core HX Riflescope models: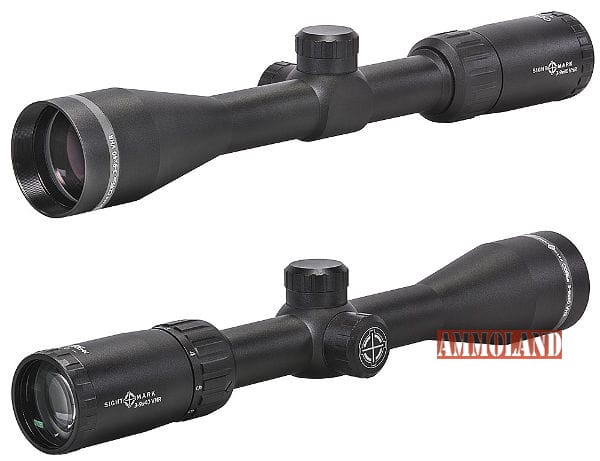 Core HX 2-7×32 HHR Hog Hunter Riflescope (SM13067HHR)
With a rugged yet fine wire rangefinding reticle for quick target acquisition, even in lower light conditions, the 2-7×32 is designed by hunters, for hunters to help you put more pork chops and ham steaks in the freezer. The 2-7X magnification range makes close- to mid-range shots quick and easy with razor sharp clarity while the 32mm objective lens provides optimal light transmission and an expanded field of view.
Core HX 3-9×40 VHR and HBR Riflescope (SM13068VHR/SM13068HBR)
With hunting's most popular 3-9X magnification, Core Venison Hunter and Hunter Ballistic Reticle Riflescopes are perfect optics to top your favorite hunting rifle. From close-range 3X power up to 9X to reach out beyond 600 yards, this variable powered scope offers great versatility designed to leverage the odds of hunting success in your favor. A fine wire bullet-drop-compensating (BDC) reticle works seamlessly with a variety of popular hunting calibers. While both VHR and HBR reticle patterns include elevation holdovers, the HBR reticle also includes windage holdovers.
Core HX 4-16×44 and 6-24×50 AOVHR Venison Hunter Riflescopes (SM13069VHR/SM13070VHR)
While most hunters revel in the idea of getting closer, it doesn't always work out that way. This is where Sightmark Core HX 4-16×44 and 6-24×50 VHR scopes come in. Both riflescopes offer wide-ranging variable magnification up to either 16X or 24X to best suit your long-range needs. The 44mm and 50mm objectives, depending on model, are designed to deliver a wide field of view, crystal clear sight picture even at maximum magnification and plenty of light for great low-light performance.
We found the best prices on Sightmark Core HX Riflescopes online at Amazon: http://tiny.cc/l35pey ~ AmmoLand
Visit Facebook, Twitter, Instagram and YouTube to learn more about Sightmark products.
About Sightmark:
Sightmark manufactures award-winning products including riflescopes, gun sights, laser sights, night vision, flashlights, bore sights and other cutting edge, premium shooting accessories. Inspired by military and law enforcement technology, Sightmark products are designed for competition, shooting, home defense, personal safety and other tactical applications, as well as hunting.
For more information about Sightmark products, visit www.sightmark.com.