Springfield Armory SAINT Personal Defense Rifle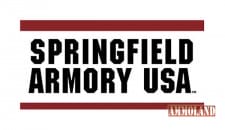 GENESEO, IL –  -(AmmoLand) – Springfield Armory is pleased to announce the SAINT. Built to equip those who wake up every day determined to protect what they have, believe that safety is their responsibility, and are unapologetic and uncompromising about defending their legacy, the SAINT is what an AR-15 should be.
While equally at home on plinking and competition ranges, the SAINT is built for defense and packs features valued by warriors into a carbine with a price point at a fraction of what one would expect. With an MSRP of just $899, the SAINT brings affordable reliability to the market.
Springfield Armory SAINT Personal Defense Rifle
"Throughout our company's history, we've been aggressive about launching new products to give our customers the best tools possible," states Springfield Armory CEO Dennis Reese.

"Back in 1985, we moved into the 1911 business because we felt that customers deserved more than the market was currently offering. Again in 2001, we decided to invest in the XD family of personal defense guns to serve an unfilled market need for personal defense. Now, we're offering a defensive rifle built the way an AR-15 should be."
The SAINT is an optics ready flat-top design that includes an A2-style front sight and gas block. Type III hard anodized aircraft-grade 7075 T6 aluminum upper and lower receivers are joined using Springfield Armory's Accu-Tite system. Designed to lock upper and lower receiver into a rigid and accuracy enhancing platform, the system virtually eliminates the movement and shake normally associated with AR-15 rifles. The upper receiver houses an M16 bolt carrier group machined from Carpenter 158 steel that is shot peened and magnetic particle inspected for long-term durability.
The SAINT features a 16-inch Chrome Moly Vanadium barrel. The 5.56mm NATO chamber feeds a 1:8-inch twist rate barrel capable of stabilizing a broad range of ammunition types and projectile lengths. Chamber, bore, and barrel exterior are treated with Melonite for longevity and corrosion resistance.
All trigger components are micro-polished and treated with Nickel Boron. The result is a mil-spec weight trigger that operates smoothly and with no detectable grit. The SAINT includes a mid-length gas system paired with an "H" style heavy tungsten buffer designed to mitigate jerky recoil impulses and enable fast and accurate follow-up shots.
Out of the box, the SAINT includes upgraded stock, grip, and handguard components. The exclusive Bravo Company PKMR two-piece handguard features KeyMod-compatible attachment points at the eleven, one, and six o'clock positions for accessories. The handguard covers an internal aluminum heat shield yet remains slim for easy handling. The Bravo Company BCM Gunfighter stock offers a generous cheek weld comb, rubber butt pad, and QD and slotted sling attachment points. As with the Accu-Tite receiver tensioning system, the precise fit between receiver extension tube and buttstock eliminate distracting movement. The Bravo Company Mod 0 Pistol grip provides grip-enhancing texture and a vertical orientation designed to complement the modern combat stance. Last, but not least, the BCM trigger guard allows ample room for operation with or without gloves.
While optics ready, the SAINT includes a flip-up rear sight to pair with the fixed front sight equipped with an elevation-adjustable post. The dual aperture rear sight features ½ minute of angle windage adjustments.
The SAINT weighs six pounds, eleven ounces unloaded and measures 35.5 inches long with the six-position stock fully extended.
Created for the free and independent, Springfield Armory's SAINT represents the next generation of America's personal defense rifle. Built with relentless dedication to reliability, it's made to support the awesome responsibility that comes with defending one's legacy.
For more information, please visit www.defendyourlegacy.com
About Springfield Armory
"The First Name in American Firearms," Springfield Armory was founded in 1777, when George Washington ordered the creation of an armory to store ammunition and gun carriages during the American Revolution. In 1794, the armory began to manufacture muskets and spent the next 150 years supplying firearms for every major American conflict. The original armory closed in 1968. In 1974, the Reese family took ownership of the Springfield Armory name and began making the M1A rifle. Today, Springfield Armory develops many products loyal to the company's heritage, like the 1911 pistol, while ensuring its future with innovative products, including the XD, XD Mod.2, XD(M) and XD-S polymer pistols.
Media Inquiries:
Stefany Reese, Social Media Coordinator
Springfield Armory, Inc.
[email protected]