By Gary Marbut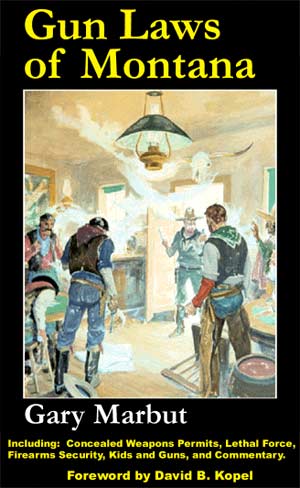 USA -(Ammoland.com)- It's not too late to order and receive a copy of Gun Laws of Montana for a Christmas gift for someone (or several).
This book is the definitive work on this subject, plus it has additional chapters about concealed weapon permits, allowable use of force, kids and guns, and more.
See more about this book on my website.
The cover price is just $12.95 each, plus $3.00 each for shipping by USPS (US only).
Just mail me a check to:
Montana Publishing
P.O. Box 16106
Missoula, Montana 59808
Make sure you include the address you want me to mail to.
If you wish the copy autographed for someone specific for Christmas, just provide me with the first name of the recipient and a correct mail address for that person (or you). I mail in specific envelopes with a return address that includes "Gun Laws of Montana," so it won't be very secret.
If you are a firearms instructor and wish to issue this book to students in classes you teach (as I do), I offer a 40 percent discount from cover price (works out to $7.77/book) plus $6 shipping for ten or more copies.
Actually, the bulk discount is available for anyone, not just instructors.
Merry Christmas,