By Philip Smith – President National African American Gun Association.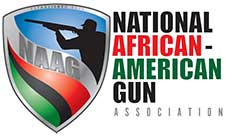 USA –-(Ammoland.com)- We have waited patiently with our Bibles in one hand and fingers crossed in the other for Gun Manufacturers to start marketing to us.
The Federal Government estimates that about 19 to 20% of all African American households own a Gun in their home currently.
That figure would make about 6+ million people with Guns and a faster growing number of new black families and Single Black Women purchasing Guns for the first time due to possible growing Terrorism threats and Crime.
That is a huge "untapped" market that needs to be served.
If making money is the objective then the "Firearm Industry" collectively should have defined market strategies with commercials, advertisements, and brand awareness for the African American Community.
There are no excuses………If it makes money then it makes sense. The bigger question is why wouldn't companies want to distribute their product in a new market that increases their revenue. Will it take "Divine Intervention" or a person who has celebrity Star power to get the ball rolling.
A Good example of this is when Magic Johnson wanted to get Starbucks to sell Coffee in under served African American and Latino markets he went to the CEO of Starbucks Howard Schultz and said "Look black and Latino folks, we like coffee too ".
From that simple discussion 105 Starbuck locations were developed and were very financially successful. We need that type of vision in the Gun community from the Industry Executives and individuals who understand demographics and see the big picture on how they can make more money and serve all of America. Don't call it racism, when often times we just need someone who understands both sides of the discussion to develop a viable solution.
I recommend looking at a Star like "Shaq" who loves Firearms but is well known in the African American Community……That makes sense.
I believe it is time for that person or company to step forward….
"Only those who dare to fail greatly can ever achieve greatly." – Robert F. Kennedy
About National African American Gun Association (NAAGA):
The goal of the National African American Gun Association is to have every african american introduced to firearm use for home protection, competitive shooting, and outdoor recreational activities. We are a civil rights organization focused on self preservation of our community through armed protection and community building. The National African American Gun Association provides a network for all african american firearm owners, gun clubs and outdoor enthusiasts. We welcome people of all religious, social, and racial perspectives. We especially welcome african american members of law enforcement and active/retired military.
For more information, visit: www.naaga.co.