Mike review the Thunder Beast 338 Ultra Suppressor with quiet results.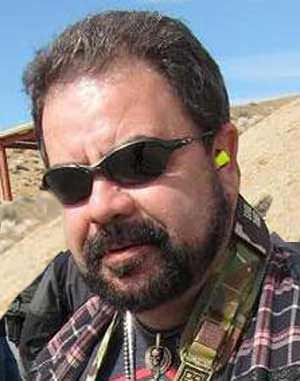 U.S.A. –-(Ammoland.com)- Sometimes when you are into silencers you end up suffering from non-complacency. That is, you may have bought the best you could afford, but you still yearn for something a little better, if not a lot better.
We went through that with our pistol cans. The AAC Evolution-45 was our favorite pistol silencer, until the Ti-Rant 45 came out and then the Ti-Rant 45M.
So it goes with rifle silencers. We tried the SIG SDR338-Ti, because of the low price for a 338 Lapua silencer, but we wanted to see what a few dollars more could have gotten us.
About a month ago we visited with Ray Sanchez, one of the owners of Thunder Beast Arms Corporation (TBAC). He came out for a local machine-gun shoot and brought with him an array of silencers from 22 lr up to 338 Lapua Magnum and the results were spectacular.
However, this was a can mounted on an Accuracy International rifle. Could I duplicate the results on my Savage 110-BA Rifle, which probably cost less than the glass on the AI rifle?
Knocking on the door of Silencershop.com once again had us asking about a TBAC 338 Ultra. The guys knew what we wanted and made sure we got one as soon as humanly possible.
Thunder Beast Arms Corporation's 338 ULTRA Silencer
Thunder Beast Arms Corporation's 338 ULTRA is an extremely light-weight suppressor that tips the scales at just over 16 ounces. Constructed entirely from Titanium, the ULTRA has a fully welded core. It has become the predominant suppressor used in Long Range Precision Rifle Shooting among the world's top 50 competitors for three years in a row.
We just had to try one on our own rifle!
The 338 ULTRA mounts via a Thread over Muzzle Brake (TOMB). The brake is timed and set using either red Loctite or Rocksett. We preferred Loctite. The brake is perfectly indexed with the Thunder Beast logo at 12 O'clock.
There is a direct thread version which consists of the mount as an insert. We opted for the TOMB version so that we could utilize it on a few of our other rifles.
Remember when it comes to silencers you can usually step down if the diameter of the round is less than the diameter of the silencer. You have to consult the manufacturer of course because you very well cannot use a 9mm silencer on a 308 Winchester.
Thankfully, the 338 ULTRA will handle 308 Winchester, 30-06 Springfield, 300 Winchester Magnum and 300 Remington Ultra Magnum as well as 300 Blackout or Whisper and 6.5 Creedmoor.
Thunder Beast 338 Ultra Suppressor – The Good
Being a collector of custom knives, we pay particular attention to checkering, engraving, gimping or anything else that lets you get a comfortable hold on something. We know what to look for in a machinist/artisans's output and we seldom see it in the NFA world. Until now, that is.
The lower half of the silencer has these swirl type patterns that aid you in gripping it while screwing it on or taking it off. We have only seen this handful of times, but have to say this is one of the best.
When fired on the AI rifles, the 338 ULTRA made them sound like a suppressed 308. The performance was duplicated on the Savage 110-BA around the 130-135 Db level with no discernable first round "pop".
For those who do not do Decibel readings. 130 Db is approximately the sound of a thunder clap.
We actually found the rifle pleasant to shoot with the silencer removed and the TOMB eliminating a lot of recoil. Not as good as the factory savage brake, but a lot lighter and more compact than that one.
No significant shift in point of impact was noticed with the suppressor removed and replaced. This is a testament to the thought process behind a TOMB style of brake. Mounts which use a tooth ratchet system, even with a latch may not always return the silencer to the exact same position. At ranges out to 600 yards, this may not be significant but when that is only your halfway point or less it can take you as far as a foot away at extreme distance where this round was intended to perform.
Additionally, Thunderbeast includes coupons to get a discount on other silencers, long range shooting classes and when you register the suppressor at their site, you are entered into a drawing to win a free silencer.
Thunder Beast 338 Ultra Suppressor – The Bad
We could find no fault with the TBAC 338 ULTRA. It is pricey, but when you have a rifle that chambers $5 bills, price becomes relative.
These cans are not full auto rated. Not that you can do that with 338 Lapua, but the 338 ULTRA is not intended for use on an M60, AR10, HK G3, etc. if you want to rock and roll. The reason has to do with the properties of titanium more so than anything else.
Mounts can be expensive if you want to change suppressor hosts, but the price is comparable to their competitor's offerings. Our only real complaint was the dreaded peel washer experimentation, which can be a time suck and leaves us with bloody fingers when we are not careful.
An MSRP of $1795 may be a little off-putting for some, but those in the long range game know that it is a small price to pay when compared to optics, stocks, barrels, bipods and a rifle that likes to eat $5 bills.
Thunder Beast 338 Ultra Suppressor – The Reality
If you are looking for a high performance long range precision rifle silencer, this is it. In addition to 338 Lapua (minimum 16" bbl), the 338 ULTRA will handle 300 Blackout, 300 Remington Ultra Magnum (minimum 20" bbl), 6.8mm, 5.56mm (minimum 11.5" bbl) , 7.62mm or 308 Winchester (minimum 14.5" bbl) and 300 Winchester Magnum (minimum 18" bbl).
Thunder Beast 338 Ultra Suppressor Specifications:
TBAC 338 ULTRA
Length 10.4″
Diameter : 1.8″
Weight: 16.9 oz
Finish: High Temperature Cerakote
Manufacturer: Thunder Beast Arms
Build Material: Titanium
MSRP: $1795
About Mike Searson
Mike Searson's career as a shooter began as a Marine Rifleman at age 17. He has worked in the firearms industry his entire adult life as a Gunsmith, Ballistician, Consultant, Salesman, Author and was first certified to teach firearms safety in 1989.
Mike has written over 2000 articles for a number of magazines, websites and newsletters including Blade, RECOIL, OFF-GRID, Tactical Officer, SWAT, Tactical World, Gun Digest, Examiner.com and the US Concealed Carry Association as well as AmmoLand Shooting Sports News.
Home page: www.mikesearson.com
FB: www.facebook.com/mike.searson
TWITTER: www.twitter.com/mikesearson