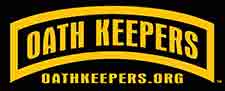 WASHINGTON, D.C. -(Ammoland.com)- Congressman Leonard Lance (NJ-07) was joined by his wife, Heidi Rohrbach, as he took the oath of office for the 115th Congress.
The oath was administered by House Speaker Paul Ryan.
"My work in Washington will focus on the priorities of New Jersey families: a better healthcare system, lower taxes, greater wages and a brighter future for our children. The oath I took today affirmed my commitment to the sacred responsibility to protect and defend the Constitution of the United States. To lead the House of Representatives I cast my vote for Paul Ryan. Speaker Ryan is an experienced leader who has outlined an agenda that will raise all Americans. That agenda has a mandate from the American people and now we must get to work on the people's priorities."
Lance will continue to serve on the House Energy and Commerce Committee.
Speaker Ryan has also named Lance to serve on the House Committee on Ethics.
About Oath Keepers:
Oath Keepers is a non-partisan association of current and formerly serving military, police, and first responders, who pledge to fulfill the oath all military and police take to "defend the Constitution against all enemies, foreign and domestic." That oath, mandated by Article VI of the Constitution itself, is to the Constitution, not to the politicians, and Oath Keepers declare that they will not obey unconstitutional orders, such as orders to disarm the American people, to conduct warrantless searches, or to detain Americans as "enemy combatants" in violation of their ancient right to jury trial. See the Oath Keepers Declaration of Orders We Will Not Obey for details.
For more information, visit their website.