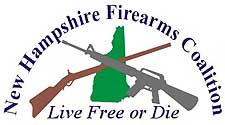 New Hampshire –-(Ammoland.com)-I know that Scott and I have been sending you a lot of email. But I'll be frank, we are concerned that many firearms owners are taking this issue for granted. Constitutional Carry will not become law until it passes the House of Representatives and the Governor signs SB 12 into law. We need your help to make that happen.
NHFC is only as strong as you, our Grassroots supporters, we are counting on you to help us make Constitutional Carry the law in New Hampshire.
SB 12 is a very important bill because it does much more than simply repealing the licensing requirement for those who wish to carry a concealed handgun instead of an exposed handgun.
SB 12 also corrects a 94 year old injustice in the law by removing the words "suitable person" and replacing them with: "unless the applicant is prohibited by New Hampshire or federal statute from possessing a firearm." This important change will instantly make it clear that anyone who may own a firearm, automatically qualifies for a license to carry one. The license will remain available for those people who might travel to one or more of the 27 states that honor a New Hampshire Resident pistol/revolver license.
We want to make absolutely certain that we have a strong showing on Wednesday for the hearing on SB 12, Constitutional Carry. Scott and I are not leaving anything to chance which is why I need to please do these three things:
1) The New Hampshire Firearms Coalition is only as strong as you, the Grassroots Gun Owners. When I stand up to testify in support of SB 12, I need your presence in the hearing room to show the House Criminal Justice and Public Safety Committee that there is strong support for Constitutional Carry.
Please attend the public hearing on February 1, 2017 at 10AM in Representatives Hall at the Statehouse. The hearing is scheduled from 10am-1pm, so if you cannot afford to take a full day away from work, just be there in the morning. You may either speak publicly in support of the bill or just sign the blue form in support of SB 12. Either one is fine, but please attend to show the legislature that there is a lot of grassroots support for Constitutional Carry. If you are able to attend, please dress respectfully and follow the rules of decorum that are an integral part of legislative proceedings.
2) Click here to email all members of the House Criminal Justice and Public Safety Committee and urge them to vote SB 12, Constitutional Carry, "Ought to Pass" without ANY amendments or changes.
3) Please click here to sign our online petition supporting Constitutional Carry. Even if you have already contacted the committee or plan to attend the public hearing on February 1, please sign the petition anyway. We will print and deliver these petitions to the members of the General Court.
Scott and I will both be at the hearing on Wednesday. Please introduce yourself. We want to meet you.
Thanks for your support.