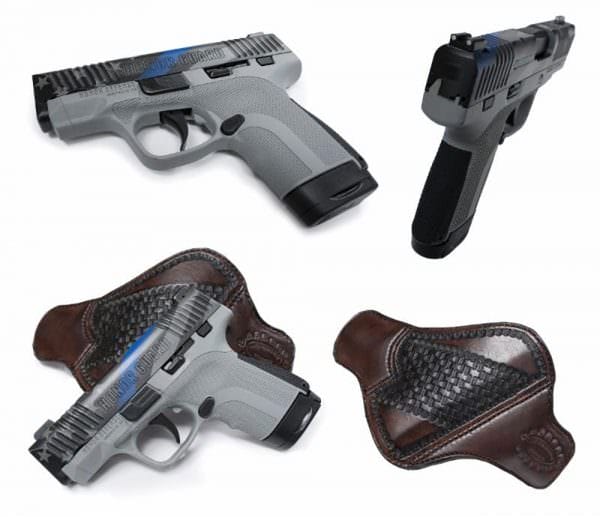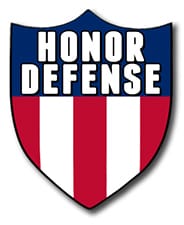 U.S.A. –-(Ammoland.com)- Honor Defense has teamed up with Pittsburgh Cerakote and Kester Farms Tack for a special package to benefit Concerns of Police Survivors (C.O.P.S.).
The auction will run from March 18 through March 28, on GunsAmerica.com.
Spree Hilliard, Outreach Specialist from C.O.P.S., added, "C.O.P.S. was organized in 1984 with 110 individual members. Today C.O.P.S. membership is over 37,000 survivors. Survivors include spouses, children, parents, siblings, significant others, extended family and affected co-workers of officers who have died in the line of duty, according to C.O.P.S. criteria. C.O.P.S. is governed by a National Board of law enforcement survivors, and has over 50 Chapters nationwide that work with survivors at the grass-roots level."
The pistol will be Honor Guard 9mm (HG9SC) with a custom Blue Line flag Cerakote finish provided by Pittsburgh Cerakote (www.pittsburghcerakote.com). In addition, the donated Honor Guard will come with a custom hand-made holster from Kester Farms Tack (www.kesterfarmstack.com).
"America's law enforcement officers deserve our support and we are proud to support the C.O.P.S. organization. We are pleased that several agencies have approved Honor Defense pistols and we want to support law enforcement families" said Gary Ramey, President of Honor Defense.
Link to auction page:
https://www.gunsamerica.com/Classifieds/View/_972955014.aspx
To find out more about the C.O.P.S. organization, please visit concernsofpolicesurvivors.org.
To learn more about Honor Defense, please visit www.honordefense.com.
About Honor Defense
Honor Defense firearms represent the next generation of modular handguns. Honor Defense firearms have more features than any other sub-compact pistol. Every part is manufactured in the U.S.A. to our highest standards. You can't buy a better pistol right out of the box. To create their pistols, Honor Defense secured input from a panel of professionals that have defended our nation or have extensive credentials in self-defense training.